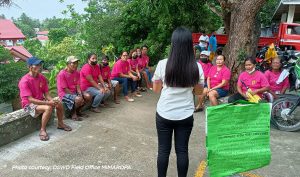 The Pantawid Pamilyang Pilipino Program (4Ps) will implement a more responsive Family Development Session (FDS) starting the first quarter of this year. The FDS Transformative Learning Path (FDSTLP) provides a more responsive and structured session with the 4Ps beneficiaries to aid them in acquiring positive behavioral changes to prepare them in their eventual exit from the Program.
The FDSTLP follows a program design based on the result of the assessment derived from socio-economic status, program gaps, and beneficiary needs.
FDS TLP LEARNING PACKAGES
The FDSTLP offers three Learning Packages focusing on family management, social structures, and livelihood and self-help.
Prior to the entry to the learning packages, the beneficiaries shall undergo with the basic and most fundamental input to include 4Ps program orientation, gender sensitivity, culture sensitivity, positive parenting, child protection, disaster preparedness, financial literacy on saving and budgeting, basics of health, nutrition and sanitation, among others.
The Learning Package I focuses on strengthening the basic knowledge, skills, and attitudes of the 4Ps beneficiaries on their commitment to the program conditions, to improve relationship within the household.
Meanwhile, the Learning Package II focuses on capacitating the household beneficiaries and 4Ps parent groups to actively participate in local governance and strengthen community relationship generating demand for social development services. In addition, the financial literacy is also part of this learning package.
Lastly, the final learning package focuses on strengthening their financial literacy and entrepreneurship, and organization of parent groups as self-help groups. This learning package shall also offer specialized topics on transitioning and graduation.
4Ps
The 4Ps was institutionalized in 2019 by virtue of Republic Act 11310. Under the law, the Department of Social Welfare and Development (DSWD) as the lead implementing agency shall ensure that the 4Ps beneficiaries will have the capacity to live a decent life and are ready to exit within seven years as mandated by the law.
4Ps invests in the health, nutrition, education, and psycho-social development of the beneficiaries. Cash grants are given to the beneficiaries on the condition of their compliance to program requirements, to include attendance to FDS.
Since its inception in 2007, the 4Ps has already served more than 5 million household beneficiaries.