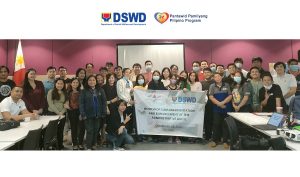 Quezon City – In light of the Department's current ISO 9001:2015 certification and enhancement of administrative processes adapting to the "new normal", the Pantawid Pamilyang Pilipino Program National Program Management Office (4Ps-NPMO), held a Workshop on Documentation and Enhancement of the Administrative Guide from October 25 to 28, 2022 at the Axiaa Hotel, West Avenue, Quezon City.  Designated focals on records management, occupational safety, and health, as well as 7S of good housekeeping, participated in the event.
In his Opening Message, Concurrent OIC Deputy Program Manager for Support Jimmy Francis T. Schuck II discussed the "Sakto, Listo, Gusto" or "SALIG" Framework on Foundational Reforms in 4Ps NPMO.
Sakto (compliance) refers to common administrative transactions (involving records management, staffing, procurement, and logistics, among other things), ISO standards/conformity Office decorum (dress code policy, 7S of good housekeeping; rules on loafing, absenteeism, habitual/borderline tardiness, among other things). Listo (Efficiency) refers to ensuring turnaround time (including RUSH transactions), moving toward process digitization, and streamlining processes, among other things. Similarly, Gusto (Client Satisfaction) refers to the achievement of service excellence, service satisfaction, more predictable transactions/processes, meritocracy, integrity, job satisfaction, and improved employee welfare.
As a guide in achieving the framework, DPM Schuck expected participants and organizers to remember the acronym "WASTO", which stands for Willing to listen and consider perspectives, Actively participate, See the bigger picture, Take effect a consensus, and On time.
Miziel S. Pasia, OIC Division Chief for Administrative Support, stated that the event is part of a series of activities aimed at developing an enhanced Administrative Guide that will serve as a reference for 4Ps NPMO personnel handling administrative-related matters.###