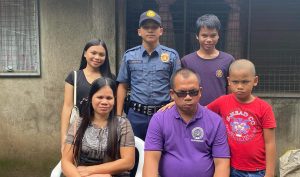 Val Liansing, 24, had always wanted to be a police officer. Back in the day, his family couldn't afford to eat three meals a day not only due to financial constraints but also due to family afflictions. He had the opportunity to realize this dream when they were accepted into the Pantawid Pamilyang Pilipino Program, or 4Ps, in 2014. Val became an Expanded Student Grant-in-Aid Program for Poverty Alleviation (ESGP-PA) scholar, graduated with a Bachelor of Science in Agriculture, completed his training with the help of his boss, and became a Police Officer in August 2020.
His story, which focused on their family, won first place in the category "Sa Mata ng Batang 4Ps" in this year's Salaysay ng Buhay ng Pamilyang Pantawid. The Search selected top stories from each of the 16 regions, including BARMM, which highlight the development of family beneficiaries in order to advocate for the Program's positive impact on the lives of its beneficiaries.
Val spent his entire childhood with his family at the Home for the Blind in the Barangay District of Bacolod City together with other 50 visually impaired families. He was raised by his visually impaired mother and grandmother along with his older sister with the same condition. Val and his father are the only ones in their family to have clear eyesight. Their only source of support for daily expenses, including school, was her mother's income as a massage therapist.   Although the visual impairment of nearly his entire family causes many obstacles and limitations in their daily activities, it did not hinder them from living normally like other families.
When his father died, they struggled even more. So Val had to work almost every job possible to support his family. He became a tricycle driver, market porter, junk trader, construction helper, and painter while also continuing his studies. Being the one who is not visually impaired, Val was also expected to do all the household chores.
In 2014, a DSWD employee visited their makeshift home and inquired about their family's situation. At the time, they had no idea that being accepted as a 4Ps beneficiary would usher in a new chapter in their lives. The cash grants that his mother has been receiving greatly helps in supporting the educational and nutritional needs of his younger siblings, who are being monitored by the Program.  Val always accompanied his mother in attending the Family Development Sessions (FDS). He acknowledged that FDS was extremely helpful in shaping their knowledge and skills related to savings, children's and women's rights, and, most importantly, in establishing good family relationships.
Val's dream of becoming a police officer, unfortunately, was seemingly crushed when his parents informed him that they could no longer afford to pay for his college education, as well as that of his older siblings. Due to their tight budget, his parents prioritized the education of his younger siblings, who were still in elementary level. Despite his disappointment, he prayed to God to help them overcome their difficulties.
Determined to help his child, Val's mother inquired with their City Link about ESGP-PA which she learned was a scholarship program for 4Ps kids who want to continue their college education.  Fortunately, Val passed the qualifying examination and was able to avail of the said scholarship.  Although the Bachelor of Science in Agriculture (BSA) was not his preferred course, Val still completed his degree in 2018 in the belief that it would help his family get out of poverty. Val earned his BSA
Afterwards, he returned to Bacolod City and continued to move forward and find employment. Through the help of friends, he was hired as an office clerk by a Bacolod City councilor, whom he became close with. He once expressed his dream to the said councilor of becoming a police officer, but was unable to due to financial limitations. His boss encouraged him to take the NAPOLCOM examination, which he did and passed. His boss then paid for his training in PNP and with his best efforts, he completed the training last August 2020 and is now a Patrolman.
With his new profession, Val bought a small plot of land and built his own house near their village. He also helped his visually impaired older sister continue her Bachelor of Science degree in Business Administration at La Consolacion College after availing the Expanded Tertiary Education Equivalency and Accreditation Program (ETEEAP).
At present, the Liansing family is still a 4Ps beneficiary, with three of his younger siblings attending the Bacolod SPED Center in Grades 9, 7, and 1. According to the most recent Social Welfare and Development Indicators (SWDI) Assessment, they have advanced to Level 2 – Subsistence Level.
He ended his story by saying: "Ako si Patrolman Val Liansing kasama ang aking pamilya ay taos- pusong nagpapasalamat sa DSWD sa pagbukas ng maraming oportunidad sa aming buhay. Kayo ang nagbigay liwanag sa bawat nakapikit na mga mata ng aking pamilyang may kapansanan sa paningin. Bulag man sila sa kaanyuan pero laging bukas ang kanilang mata sa mga pangarap at pagbabago na unting-unti natutugunan ng ating pamahalaan (My name is Val Liansing, a Patrolman, my family and I are deeply grateful to everyone. Thank you, DSWD, for opening up so many doors of opportunities for us. You are the one who brought light to my visually impaired family. They may be visually-impaired, but they always have a clear vision of their dreams. Dreams that our government is addressing gradually)."#