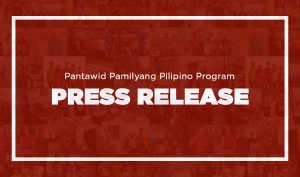 Quezon City – The Department of Social Welfare and Development (DSWD) reminds the beneficiaries of the Pantawid Pamilyang Pilipino program (4Ps) that neither a political party nor any election candidate can have them delisted from or enlist them in the Program.
"As 4Ps beneficiaries, we encourage you to provide feedback to the DSWD on any candidate who states that he or she has the authority to delist or remove a beneficiary from the Program.  Report such incidence through the Program's Grievance Redress System (GRS)" said Director Gemma B. Gabuya, 4Ps National Program Manager.
Gabuya also added that 4Ps beneficiaries should serve as safeguard in ensuring that the Program will not be used for personal or political gains. Based on existing 4Ps policies, beneficiaries can be delisted if found to be persistently non-compliant to the Program conditions despite several warnings and case management.
She also stressed that based on the program policy, beneficiaries will no longer be eligible if the household (a) has no more children aged 18 and below; (b) has been assessed as no longer poor; (c) was found guilty of doing fraudulent acts; (d) consistently non-compliant despite case management efforts; and (e) voluntarily exited from the program.
Under the 4Ps law, DSWD is the only agency mandated to select beneficiaries to be included in the 4Ps through a standardized targeting system and shall ensure the use of a uniform, objective, and transparent procedure of identifying poor households as potential beneficiaries.  The Department is, likewise, the only authorized agency to remove beneficiaries from the 4Ps based on the program criteria/requirement.
As the Department commits to spare its program and services from partisan political activities and to uphold the rights of beneficiaries to free and honest election, the DSWD had long crafted and issued guidelines for strict implementation by the national and regional program management offices.  These guidelines include DSWD MC 24 series of 2012 – Guidelines on the conduct of activities on Pantawid Pamilyang Pilipino during the 2013 campaign and national and local elections, DSWD MC 1 series of 2013 – Operational Guidelines during the election period, and Joint Memorandum Circular of DSWD, DILG and COMELEC Bawal ang Epal Dito Implementation Guidelines.  In August 2021, the DSWD issued Memorandum Circular No. 9, which is the Policy Guidelines on Strengthening Partnership with Stakeholders During Election and Non-Election Periods.
Any incidence of politicking in the line of work can be reported to any Field Office of DSWD in through electronic mail or text, telephone and other forms of social media.  The details of the complaint can be submitted through GRS text hotline 09189122813 or through email – 4psassistance@dswd.gov.ph for immediate action and resolution.  All complaints shall be treated with utmost confidentiality and impartiality and may also be addressed directly to the Regional Director of the Department with specific information such as name of person being complained, address or location and the specific complaint.#