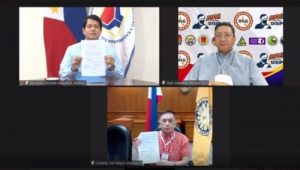 In time for the upcoming national and local elections, Department of Social Welfare and Development (DSWD) Secretary Rolando Joselito D. Bautista led  the signing of a tripartite memorandum of agreement (MOA) with  Department of the Interior and Local Government (DILG) Secretary Eduardo Año represented by Undersecretary Jonathan Malaya,  and  Commission on Elections (COMELEC) Chairperson Saidamen B. Pangarungan for a strengthened implementation of public policy on the insulation of social protection programs from political intervention on March 24.
The policy is covered by a Tripartite Memorandum of Agreement and Jointly issued Memorandum Circular (JMC) No. 2013-001 signed by the three agencies in 2013 during the local elections.
In his message, Secretary Bautista said that "safeguarding our programs as well as our program- beneficiaries from being unknowingly or knowingly used in campaigns or to advance political agenda is our inherent responsibility."
As a preventive measure, the DSWD collaborated with DILG and COMELEC for stronger preventive initiatives through the new MOA.
Undersecretary Malaya expressed the DILG's full support to the objectives of the MOA, which is the reinforcement of the original guidelines.
"There is a need to safeguard the programs and projects of DSWD which are for the benefit of the Filipino people from partisan political activity," Undersecretary Malaya said.
Chairperson Pangarungan, on the other hand, also affirmed the importance of undertaking the tripartite agreement.
"In our pursuit of a free, fair, clean and honest national and local elections, we welcome efforts from national agencies that go beyond coordination with this Commission,"  Chairperson Pangarungan said.
He expressed COMELEC's gratitude to DSWD and DILG for initiating activities that "institute efforts to protect the integrity of the elections."
Under the new agreement, a technical working group will be created by the signatory agencies. The TWG will ensure the implementation of the provisions of the agreement even beyond the 2022 National Elections.
The DSWD is tasked to initiate the constitution of this TWG within 10 days of signing the MOA, and the initial activity to be undertaken to review the gains of the 2013 MOA. This review will serve as a starting point for the formulation of planned course of action which will help isolate DSWD programs from unscrupulous candidates.
Secretary Bautista added that the DSWD is deeply grateful to DILG and COMELEC for undertaking and pursuing this strengthened initiative to maintain the integrity of programs and protect the rights of beneficiaries to freely vote based on their conscience.
With stronger provisions in the new MOA, it is expected that political candidates will refrain from using any programs of the DSWD in convincing the public to vote for them. It also ensures that no program funds can be used to advance any political ambition this election, or at any given time.
Furthermore, reporting measures for errant politicians will be more efficient with the DSWD, DILG, and COMELEC belonging in one working TWG.
In insulating 4Ps and other programs from politics, the DSWD also helps the Filipino voters to exercise their right to vote freely without being influenced by candidates and interest groups. ###
(THIS ARTICLE IS ORIGINALLY POSTED ON https://www.dswd.gov.ph/dswd-dilg-comelec-sign-agreement-to-insulate-4ps-other-social-services-from-politics/)