Quezon City – The COVID-19 has brought truly unprecedented times. With the continuous threat of the dreadful disease, there have been reforms and innovations in the way everyone lives, transitioning to adapt in the so-called "new normal".
Accordingly, under the new normal, the government is expected to implement interventions that boost confidence in generating economic activities in the presence of COVID-19, support the population groups that are most affected, and deliver existing programs through efficient and effective approaches amid the virus.
Adapting to the New Normal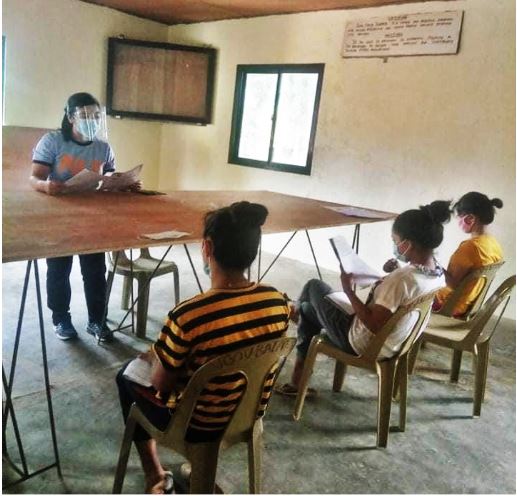 One of the sectors affected by the Covid-19 pandemic is education. The Department of Education (DepEd) was faced with the dilemma of coming up with alternative modes of learning that do not require face-to- face classes. Various factors were considered in outlining the alternative mode of learning, which include accessibility and availability of infrastructure, among others.
The imposition of the community quarantine, nationwide, required an immediate response to ensure the continuity of education despite the pandemic. The implementation of the distance learning program was generally met with uncertainty, particularly from poor parents and students including the Pantawid Pamilyang Pilipino Program (4Ps) children beneficiaries.
The municipality of Lacub is an upland municipality in the province of Abra. The network connection is usually very poor. Most isolated barangays are deprived of Information and Communication Technology (ICT) infrastructures brought by lack of access to stable power supply. Few have smartphones and most prefer modular learning as it is the most convenient and feasible for learners.
The first month of the school year was challenging to parents who do not have the necessary education needed to assist their children in self-studying. Lessons were difficult to understand. Activities or performance tasks required weekly were also burdensome even for adults with higher educational attainment. They constantly worry that their effort is not enough for their children to learn. Parents, siblings and other family members were to take on the role of learning facilitator and teacher. The sudden shift of learning has become tough for parents who are working to sustain their daily needs.
Mariel U. Garcia, a Grade 9 Pantawid beneficiary student of Our Lady of Guadalupe School (OLGS) finds difficulty in learning. Her parents could not assist her since her father is busy working while her mother's educational attainment is elementary level. She also has difficulty with reading and comprehension.
"Haan ko maawatan dagiti lessons mi, isu nga agkopkopya nak laeng kadigiti kaklasek ta talaga nga haan ko maawatan dagiti lessons iti module mi nga nakaad-adu (I did not understand our lessons, that's why I just copied from my classmates because II really do not understand the lessons in our module that is very plenty)", shared Mariel in their vernacular.
The OLGS caters to 97 Pantawid children beneficiaries for the school year 2020-2021 which started on August 25, 2020 and ended in April 2021.
Meanwhile, Ellen Barona, a non-4Ps resident of Talampac shared that helping his child to study was very difficult for her. "Narigat nga ma-encourage ti anak ko nga ag self – study. Marigatanak met laeng nga makaasistar kaniana gapu ta haan ko maawawatan dagiti lessons da (It was difficifult to encourage my child to do self-study. I also find it hard to assist him, because I do not understand their lessons)", she added.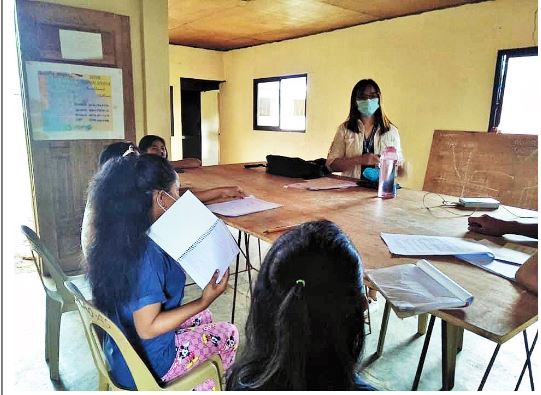 With this dilemma, 4Ps beneficiaries in the community of Talampac, Lacub, Abra together with their Municipal Link, Jennifer Crisologo came up with the tutorial project for learners. Professionals and individuals, who are at least high school graduate, are encouraged to devote at least two hours a day to tutor learners who have difficulties in understanding the modules and accomplishing their activities.
4Ps parent groups conducted a meeting together with non-4Ps parents organized a group of volunteer tutors who will help teach their children. Each parent was assigned a person to invite. Initially, identified volunteer tutors are graduates of a bachelor's degree but are presently unemployed. The learning sessions are usually done from 4:00 PM to 6:00 PM or 5:00 PM to 7:00 PM depending on the availability of volunteers.
Each study group is facilitated by a volunteer tutor assigned with a specific area or field of specialization. This learning initiative enabled students to accomplish the modules themselves assisted by the volunteers. To date, there are 16 volunteer tutors teaching students from Grade 7 to Grade 8, with 41 4Ps students from the Barangay availing of the tutorial sessions.
Through the effort of the parents, the project was supported by the different stakeholders to include the Barangay LGU, local offices of the Social Welfare and Development Office, and Disaster Risk Reduction and Management; national government agencies such as the Department of Social Welfare and Development, Philippine National Police, Department of Health, Philippine Army, among others.
Testimonials of at least two (2) beneficiaries and two (2) disinterested person in the community (non-beneficiary), and partner stakeholders.
Because of the tutorial, Mariel was inspired to do better in school. She said that, "Idi addan study group mi ket mas maengganyo nak nga agbasa gapu ta adda kakaduak. Nalalaing met laeng dagiti tutors mi ken naanus da nga mangipakpakaawat keniami dagiti lessons mi (When we had a study group, I was encouraged to read more because I have a companion. Our tutors were very good and very patient in helping us understand the content of our modules)."
Ellen, on the other hand was very grateful for the tutorial project initiated by the 4Ps beneficiaries. "Maragsanak ken agyamanak met lang unay kadagiti 4Ps ta napanunot da daytoy. Maysaak nga parent ken uray haan kami beneficiary ti 4Ps ket nakaraman ti anak ko nga ni Marco kadagiti study groups nga binukel da. Idi adda dagiti volunteer tutors nga mapmapan ditoy ket naragsakanak unay. Libre pay ket dakkel nga tulong kaniami (I am very happy and grateful to the 4Ps for this initiative. I am a parent, and even though I am not a beneficiary of 4Ps, my son Marco was among those helped by the study group. When volunteer tutors came here, I was very happy. Its free and a huge help to us)."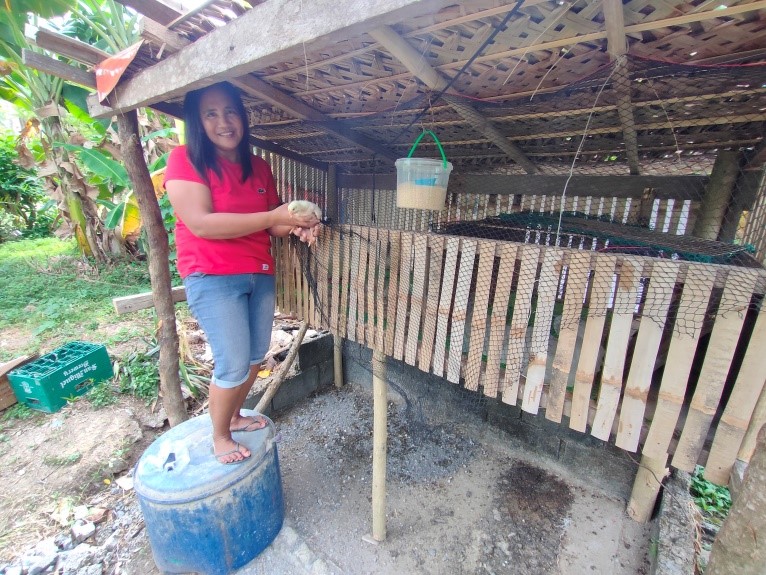 Opening doors to better livelihood opportunities
Community lockdowns has resulted in loss of economic opportunities for many of us. There were those who lost their businesses, other their jobs. One of the industries that suffered the brunt of the pandemic is the tourism. Puerto Galera, known for its numerous scuba diving spots, are among those that were affected.
To help those who lost their jobs, the local government launched the Livelihood Program 2021: Manukan sa Barangay. This includes a series of training on poultry business and provision of livelihood assistance to those who have been adversely affected by the spread of COVID-19. The program was also extended beneficiaries of the 4Ps who are now ready to exit from the program.
Mayor Rocky D. Ilagan of Puerta Galera said that the program hopes to generate income and help the families meet the daily needs of those who are in need and sustain the improved well-being of the 4Ps beneficiaries.
"Sinisiguro ko na ang lokal na pamahalaan ng Puerto Galera ay patuloy na nakaantabay sa mga paalis nang benepisyaryo sa 4Ps (I assure you that the local government of Puerto Galera continue to guide the exiting 4Ps beneficiaries). We will continuously plan and provide assistance to these households in every way possible", said Mayor Rocky llagan.
Among the recipients of the poultry business starter kit that includes 30 chicks, drinking containers, chicken vitamins, and feeds (patuka) is Evelyn Garcia-Cenita.
Evelyn was so happy and delightful when she received the starter kit from the LGU.
"Ang natanggap ko pong tulong-pangkabuhayan galing kay Mayor ay pagsisikapan ko pong palaguin katulong po ang lahat sa pamilya namin. Marami po akong natutunan sa 4Ps. Lahat po iyon ay gagamitin ko (The livelihood I received from the Mayor, I will do my best to expand it, together with my family. I learned a lot from 4Ps. I will use all what I have learned)," shared Evelyn.
The Pantawid Pamilyang Pilipino Program
4Ps is a program of the national government that invests in the human capital of poor households. It was institutionalized in 2019 by virtue of a Republic Act. It has become the national poverty reduction strategy of the government that provides cash grants to improve the health, nutrition, and education aspects of eligible poor households. The program also provides psychosocial and psycho-educational components through the FDS leading the beneficiaries to an improved and sustained well-being.
To date, the program caters to 4.25 million household beneficiaries nationwide. ###
(Stories are originally published at: 1) DSWD CAR – https://car.dswd.gov.ph/2021/07/dswd-lauds-4ps-best-parent-leaders-and-most-innovative-project-2/; and 2) DSWD MIMAROPA – https://fo4b.dswd.gov.ph/2021/06/chicks-to-cheeks-bringing-joy-to-beneficiaries)