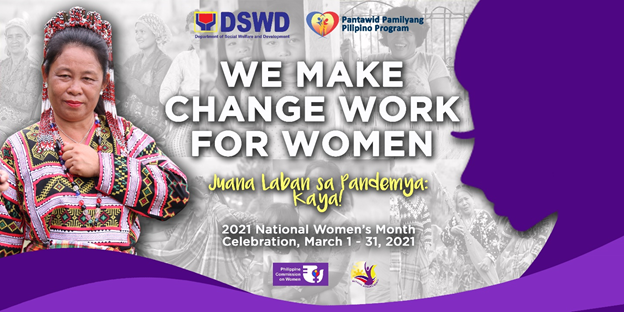 Quezon City – Often times, we hear women and empowerment spoken together. This is often associated with gender and development, poverty and power. Every March, the Philippines celebrates Women's Month. It served as a venue not only to celebrate women's significant contribution and achievements, but also to look critically at equality and opportunities for women for a more fair and just society for all.
Gender and Development (GAD) mainstreaming was adopted as the government's strategy in pursuing gender equality in all aspects of the development process to achieve the vision of a gender-responsive society, and March was dedicated as the platform to campaign, advocate women empowerment and gender equality and surface issues and concerns for policy reforms.
Jane Del Rosario was once a timid and shy person.  At 40, Jane recollects how she and her family juggled to survive from poverty and life's adversity. Her family lives in the remote barangay of San Antonio in Sta. Marcela, Apayao.
Jane and Calixto patiently depend on the meager income from farming. With no farm to cultivate, Calixto relied on the daily labor work offered by their well-off neighbors. But according to Jane there were times that they did not receive work offers and this has made their situation even harder.
"Sobrang hirap ng pamilya namin. Kung saan-saan ako nangungutang ng pera para may pambili ng bigas. Saka lang kasi kami may pera kapag may tatawag sa asawa ko na magtrabaho sa bukid (Our family was very poor. I borrowed money everywhere (from all of my friends) just to put rice on our table. We only had money if my husband is called to work)," Jane continued.
Jane emotionally shared that their life condition has affected her self-esteem and confidence in dealing with different people. Jane recounted some instances that she almost lost courage from desperation because she felt that they were not part of the community.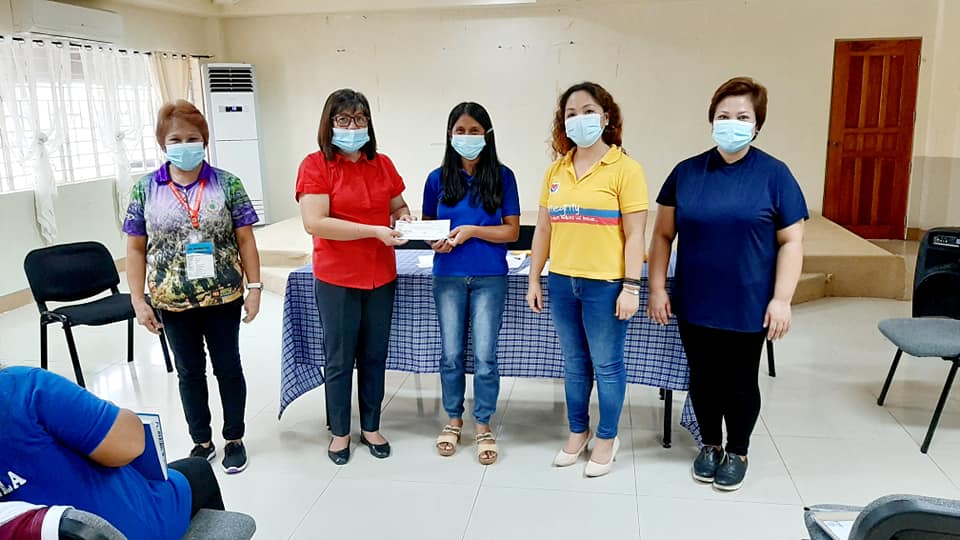 "Hindi ako gaanong lumalabas ng bahay, hindi ako marunong makisalamuha sa maraming tao dahil  sobrang mahiyain ako, at hindi ko iniisip na maghanap ng iba pang pagkakakitaan (I do not  usually go out from our house because I was really shy to talk to other people and I did not thought of looking  for another source of income)", Jane shared.
Back then, Jane said that she really wanted to help her husband, but her shy character hindered her from doing so.
In 1992, when the reported cases of poliomyelitis totaled to 5,485 in the Western Pacific, a three-year old from Rosario, Agusan del Sur was one of them.
"Sa nagdako ko, sakit kaayo ang akong mga nadunggan nga panaway. Usahay gusto nako nga mulaban, pero gipili nalang nako nga muhilak, ug mangutana nganong nahitabo man sa ako ni (Growing up, I experienced and heard hurtful words. Sometimes I wanted to fight back, but I just chose to cry, and ask why this happened to me)," Jimmilyn recalled.
Even with the disability, her personality was what people appreciated. It was what 34-year old Robert Masadog, a neighbor, got attracted to when he was able to know Jimmilyn better.
Robert remembered the time when people were giving him unsolicited opinion/advice, telling him to look for other women – those without any disabilities. But he proved to them that what he felt for Jimmilyn was true. Even with the 14-years gap, Robert managed to prove his love to Jimillyn, and convince her parents that he was the man for her. They decided to live together, and were blessed with four children.
Rearing and raising four children was hard for Jimmilyn. Due to financial constraints since she was unable to pursue her studies.
"Gidawat nako nga dili na gayud ko makahuman og eskwela, mao nga maningkamot ko na mapahuman ang akong mga anak (I accepted the fact that I will no longer finish my studies, that is why I will strive hard to let my children finish theirs)," she said.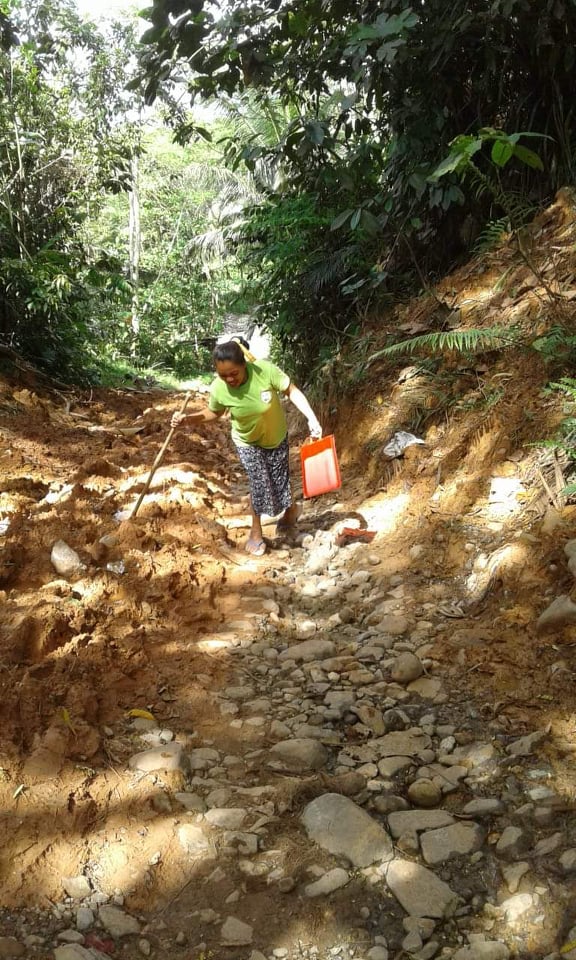 Despite poverty, both Jane and Jimmilyn continue to dream and work hard for their family most especially their children.
When Jane's family was included in the Pantawid Pamilyang Pilipino Program (4Ps), not only did their living condition improved but also her outlook in life. The Program's monthly Family Development Session (FDS) helped overcome her timidity and boosted her self-confidence.
"Natuto akong makisalamuha sa maraming tao dahil sa FDS. Ang mga seminars na aking nasalihan ay lubos na nakatulong sa akin at nakapagbigay din ito ng lakas ng loob na makapagsalita sa harap ng  maraming tao (I learned to mingle with different people because of the FDS. The seminars I participated in were really helpful in developing my confidence to talk in front of many people),"Jane narrated.
4Ps was enacted into law in April of 2019. It has become the national poverty reduction strategy of the government that invests in health, nutrition, and education of the eligible poor households. Program beneficiaries receive cash grants provided that program conditions are satisfied. Among which are enrolment and attendance of children aged 3-18 years old in school; deworming of at least twice a year for children aged 1-14 years old; pre and post-natal check-ups for women; preventive check-ups to children aged 5 and below and attendance to monthly Family Development Session (FDS)  of at least one responsible person in the household.
FDS is the venue for the program beneficiaries to enhance and acquire new skills and knowledge in responding to their parental roles and responsibilities particularly on health and nutrition, education and psychosocial needs of children; promotion of positive family values; and strengthening marital relationships, and promote involvement, participation, volunteerism, and leadership for strengthened individual and community empowerment.
The FDS employs neighborhood-based family psycho-educational activities to promote, empower, and nurture families towards strengthened capacity so they could meet their familial and parental responsibilities as well as participate in community development activities.
Through the FDS, parent/s or guardians are organized into a group. These groups are led by Parent leaders (PL) who are elected by the members. Each PL usually has a 25-40 members. The PL serves as the direct link between the program and the beneficiaries. They provide assistance to the Municipal Link especially in updating the profile of the beneficiaries, conducting meetings, and in the preparation of FDS.
Jimmilyn on the other hand, said that the cash aid they received all goes to the educational needs of her children.
But more than the cash aid, Jane and Jimmilyn were able to build their self confidence that opened opportunities to help their co-beneficiaries and serve as role models being parent leaders.
As of December 31, 2020, the 4Ps has around 158,061 parent leaders, of which more than 149,600 are women.
Jimmilyn's neighbors saw her efforts and started believing in her capacity, and sense of responsibility. They chose her to be their leader/lector of Gagmay'ng Kristohanong Katilingban (GKK). As the president of the GKK, she leads her community and most of the time decides to whatever endeavors and activities they will venture in to. She became the voice and the head of their church.
Moreover, she is an active member in the school's Parent-Teacher Association (PTA) and was even elected as an officer. In their barangay's women's group, she was also elected secretary for 4 consecutive years. These are all because of her eagerness to learn, adapt, and help in their community, even with her frailty.
"Karon, makaingon ako na usa ko ka-empowered na babae kay wala ko nako nahadlok nga mahimong babag ang akong pagka-PWD sa pagpanday sa akong kaugmaon, labi na ang kaugmaon sa akong mga anak (Now, I can say that I am an empowered woman because I am no longer afraid that my disability would stop me from building my future, especially my children's future)," Jimmilyn bravely exclaimed.
Meanwhile, Jane has been actively involved in their community. She is also part of the Barangay Health Worker.  She shared that with the blessings she receives from the Government, it is but time to give back and share her services to the most in need members of her community.
While empowerment maybe is a very big word and at times hard to define, Jimmilyn and Jane gave us a picture of how does one show empowerment. ###