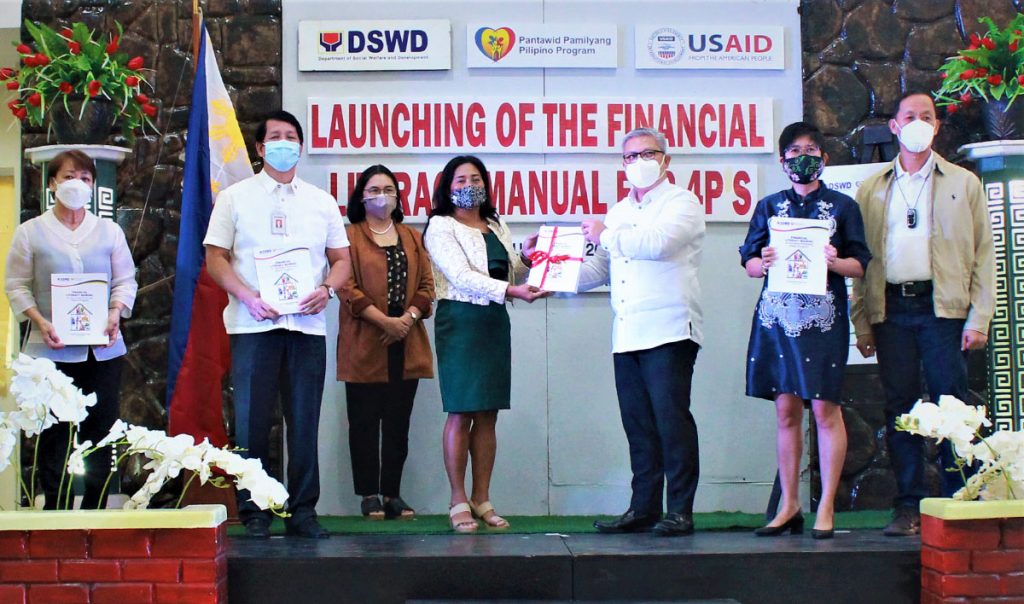 The Department of Social Welfare and Development (DSWD), together with the United  States Agency for International Development (USAID) through its E-PESO project,  launched today the Financial Literacy Manual for the Family Development Sessions  (FDS) of the Pantawid Pamilyang Pilipino Program (4Ps).
The manual offers an enhanced approach in providing financial literacy sessions to 4Ps  beneficiaries, assisting them in their eventual exit and/or graduation from the program  towards achieving sustainable financial independence.
The manual consists of four modules to include understanding the value of cash grants  and using it wisely and appropriately; developing financial goals, managing finances  through responsible budgeting; recognizing the importance of saving; understanding  transaction accounts; and being keen to consumer protection, policies on general goods  and financial products. It also includes topics on expanding opportunities for livelihood  and access to more advanced financial products and services.
4Ps was enacted into law in April 2019. It has become the national poverty reduction  strategy of the government that invests in health, nutrition, and education of eligible poor  households. The program also provides psychosocial and psycho-educational  components through the FDS leading the beneficiaries to an improved and sustained  well-being
In November 2019, the DSWD sealed a partnership with USAID to steer the 4Ps  beneficiaries towards financial inclusivity, which is the government's mandate to  mainstream the poor in the country's economic system. ###
—
(This article was originally posted on the DSWD website: https://www.dswd.gov.ph/dswd-usaid-launch-4ps-financial-literacy-manual)