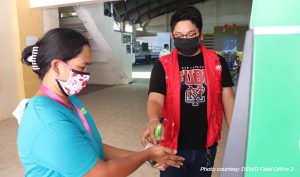 Quezon City – The Department of Social Welfare and Development (DSWD) released the Memorandum Circular 38 or the Guidelines on the Commission of Prohibited Acts by Pantawid Pamilyang Pilipino Beneficiaries during State of Calamity or National Emergency that provides for stiffer policies against erring beneficiaries. This, as a result of the reports received that there were beneficiaries involved in illegal activities after receiving their grants under the Social Amelioration Program.
The declaration of public health emergency in March 2020 allowed 18 million poor households cash assistance as mandated by the Bayanihan to Heal as One Act. This includes beneficiaries of the 4Ps.
In a statement, DSWD said that the circular hopes to guide the beneficiaries and help them understand that the benefits they receive are financed through government funds. As such, they are reminded that cash assistance must be put to a good use and should not be spent outside of what it is intended for, more so for illegal activities.
The agency stressed that these guidelines are applicable only during the declaration of state of calamity, national emergency or other extra ordinary conditions. DSWD also added that any member of the household who will be found out to engage in any prohibited acts as stated in the circular, release of cash grants shall be automatically suspended and erring member together with the rest of the household would need to undergo case management. Reinstatement of household shall be based on the recommendation of the case worker assigned.
DSWD clarified that this measure is not meant to penalize but rather to encourage the program beneficiaries to be more responsible and prudent in the use of the benefits afforded to them.
4Ps which was enacted into law in April of 2019, is the government's major poverty alleviation program that invests in health, nutrition, and education of the poor eligible households. These alongside with the psychosocial and psycho-educational component provided through the Family Development Session leading the beneficiaries to an improved and sustained well-being.
Among the program conditionalities include enrolment and attendance of children aged 4-18 in school; deworming of at least twice a year for children aged 6-14; pre and post-natal check-ups for women; preventive check-ups to children aged 5 and below and attendance to monthly Family Development Session.
Currently, the program is being implemented nationwide covering more than 4.3 million households. Earlier, DSWD announced that it will register additional program beneficiaries to reach the 4.4 million households target beneficiaries for this year.  ###