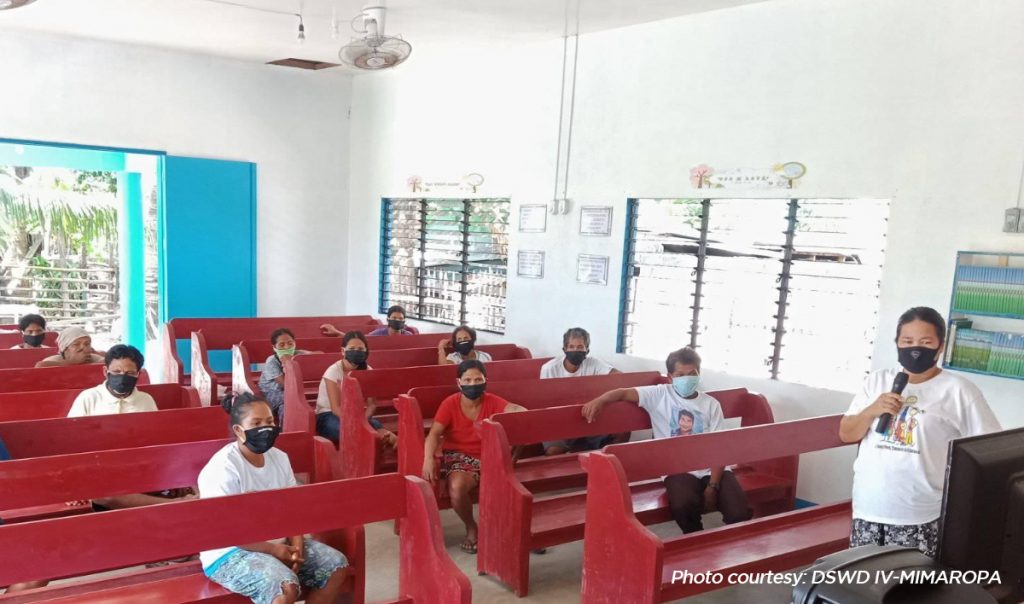 Quezon City – The declaration of a national Health Emergency due to the pandemic has caused economic uncertainties especially among poor families. The lockdowns imposed by the national government to manage the further spread of Covid-19, where major borders were closed, transportation suspended and citizens were asked to stay at home, affected people's mobility to earn a living.
Jennet Usita and her husband Feliciano Jr. of Cabaritan East, Ballesteros Cagayan has seven children: Jhezza, Jennica, Joana, Janna, Jairus, Jillian and Jzeina. Her husband is the sole breadwinner as a laborer while she stays home to take care of the family. As a homemaker, she has engaged in vegetable gardening with occasional ornamental plant as her hobby. The edible produce from the garden became a food source while her flower garden provided aesthetic beauty to their home.
During the pandemic, Feliciano's income was greatly affected as there were fewer jobs he could do. This posed a potential problem to the family as Feliciano's meager income was hardly enough to support a family of nine (9).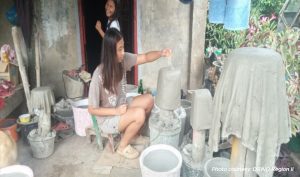 The idea to make and sell pots came when she realized that being a plant enthusiast herself, that while she had more time in her hands, others did not have as much free time. Thus, after all daily necessities have been taken care of, she purchases a bag of cement and starts to make her own version of cement pots using old rags. Her children also helped out in this.
From the pots she made and sold, she was able to make 2,000 to 3,000 pesos to the family income. She attributes her determination to help from the lessons brought to them by the monthly Family Development Sessions (FDS) of the Pantawid Pamilyang Pilipino Program (4Ps).
"Dahil sa programa, natutunan kong maging mas produktibo sa aking oras mula sa pangangalaga sa aking mga anak at tahanan sa pagtatanim ng gulayan para sa aming pangangailangan," (Because of the program, I learned to be more productive of my time from taking care of my children and our home to setting up a garden for our needs) she testifies.
4Ps was enacted into law in April of 2019. It has become the national poverty reduction strategy of the government that invests in health, nutrition, and education of eligible poor households. The program also provides psychosocial and psycho-educational components through the Family Development Session (FDS) leading the beneficiaries to an improved and sustained well-being
In November 2019, the Department of Social Welfare and Development (DSWD) through the 4Ps sealed a partnership with United States Agency for International Development (USAID) through its E-PESO project to steer the Pantawid Pamilyang Pilipino Program beneficiaries towards financial inclusion, the government's mandate to mainstream the poor in the country's financial system, towards improved delivery of financial services to them.
The engagement gave birth to the Financial Literacy Manual which will now be part of the FDS. The manual includes four modules to include understanding the value of cash grants and using it wisely and appropriately; developing their financial goals, managing their finances through responsible budgeting; understanding the importance of saving; and being keen to consumer protection policies on general goods and financial products.
Meanwhile, the last two modules will help 4Ps beneficiaries in expanding their opportunities for livelihood and access to more advanced financial products and services; all towards achieving financial security which shall sustain them beyond their eventual exit and/or graduation from the program.
Pot of Gold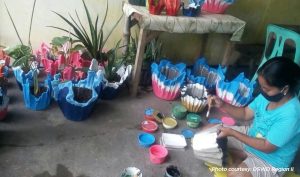 The Padasdao family of Brgy. Osmeña, Solano, Nueva Vizcaya is another family greatly affected by the pandemic. Valentino, the family head, is a tricycle driver. During the community quarantine, he was not allowed to operate and even with the relaxation of travel restrictions his income has been greatly affected.
Hadn't there been a backyard garden to augment for food, his earnings from driving a tricycle would not suffice for his family's need.  Receiving their emergency subsidy from the social amelioration program, they used a portion of it as capital for income generating activities such as the buy and sell of basic necessities and selling of homemade cement pots.
It started out with a capital of 1,500.00 pesos for bags of cement and painting supplies. Along with Carol and her children who were very eager to help, they were able to make 72 different-sized pots which sold at 3,650.00 pesos. With the positive feedback from their buyers and a demand for more, they continue to produce pots for the community.
The timely introduction of the Financial Literacy module for FDS hopes to teach and train 4Ps beneficiaries in improving their financial well-being, assist them towards graduation from the program and achieve financial independence
Despite the crisis, the families of Usita, and Padasdao did not stop from looking for alternative ways to survive amid the pandemic. As the program continue to innovate services to usher their family and the rest of 4Ps beneficiaries, a better country and productive citizens awaits the future. ###