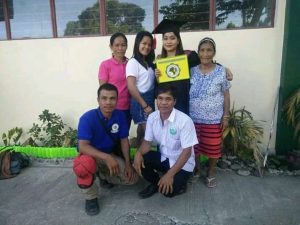 Quezon City – Situated in one of the Geographically Isolated and Disadvantaged Areas (GIDAs) of Brgy Pinya, Diadi, Nueva Vizcaya, the family of Rosemarie Pudao, belonging to the Tuwali Tribe, lived a very simple life. With only tenancy in an agricultural land to sustain their daily living, she and her husband Rogelio struggled to sustain the education of their three children.
Rosemarie's story is not unique, hers is a story that represents how families, considered as poor, lives on a day-to-day basis.
Meanwhile, in the island town of Socorro in Surigao del Norte, Dayna Maisos gears up for another long day to help and serve her community as a barangay health worker.
Dayna and Rosemarie hails from an entirely different community but both coming from a poor family. They also
are beneficiaries of the Pantawid Pamilyang Pilipino Program most commonly known as the 4Ps. Despite the situation, both Dayan and Rosemarie chased their dreams and hoped for a better life for their families.
Rosemarie and her husband's combined meager income are mostly spent for the education needs of their middle child, Sonia, who was taking up Civil Engineering then. Her eldest, Rovelyn, was already married and separated from the family. Grants from the 4Ps was used to augment the daily needs of the family and education of the youngest, Ryzza, who was a high school student that time.
4Ps was institutionalized in 2019 by virtue of Republic Act 11310. It is the national poverty reduction strategy of the government that invests in health, nutrition, and education of the eligible poor households. This is alongside  the psychosocial and psycho-educational component provided through the Family Development Session leading the beneficiaries to an improved and sustained well-being.
Recently, the program released the result of its third impact evaluation, a research study to reassess the program impact both for the short term and intermediate outcomes on health, education, household welfare, and other socio-behavioral component.
The results of the evaluation indicated that, "the program have desirable impacts on education and health of children and pregnant women. It also gathered positive results on household welfare such as income and food security, community participation, and awareness of basic means to mitigate vulnerabilities such as disaster preparedness among adults; and, strong impact determination of children to complete and succeed in school, despite of the challenges".
Dayna serves as a frontliner in her community at Barangay Sering, Socorro. She is also an active Parent Leader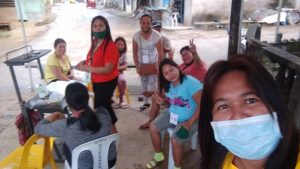 and was once a community volunteer during the implementation of the Kapit-Bisig Laban sa Kahirapan – Comprehensive and Integrated Delivery of Social Services (Kalahi-CIDSS), another program of the Department of Social Welfare and Development (DSWD), in their municipality.
As a BHW, Dayna assists the employees of the Rural Health Unit (RHU) in monitoring the condition of citizens entering their barangay and checking if residents are strictly abiding by the health measures and protocols set by the municipal and national local government units in response to the threat brought about by the COVID19.
Being a frontliner also entails risks and responsibilities. She has to take the risk of getting exposed outside and becoming vulnerable to the disease while securing the safety and protection of her community. To add to that fear of getting infected, Dayna also expressed that their job as frontliners becomes more challenging when some members of the community fail to follow the rules.
"Naay mga tao nga dili gayud maminaw. Musupak sa mga patakaran. Kami nga mga BHW, kami pa gayud ang basulon ug pasipad-an tapos dili mahatagan og pagtagad gihapon. Apan wala namo nahuna-hunaan bisan naa sa risgo among mga kinabuhi apan serbisyo among gipagtigbabaw aron dili na mudaghan ning kaso sa Corona Virus, (There are really some who do not listen and abide by the rules. Even if it is us, BHWs are held accountable if people violate the guidelines, we are still left unappreciated. But we do not mind these things and continue to put our jobs and society first and risk our lives just to prevent the spread of the Corona Virus)," Dayna said.
Despite these struggles, Dayna still finds joy in serving her community. With her experiences as a parent leader and a former community volunteer, she is already used to the strains brought by her responsibilities especially in this time of pandemic. She believes that these challenges help her become a more effective and efficient leader and member in her community.
Just like Dayna, there have been several 4Ps beneficiaries who also stepped up and showed compassion and selflessness when the pandemic broke out. These beneficiaries bravely took the risks and opted to serve the community.
Upon her graduation, Sonia was quick to support her family working as a site engineer for a private company in Makati. In fact, her daughters have pooled enough resources to help Rosemarie put up a small sari-sari store.
Rosemarie's family is now preparing to exit from the program with the graduation of her youngest child from grade 12. For her, this is both a success and a challenge especially since Ryzza is now enrolled in Nueva Vizcaya State Universary for her bachelor's degree in education.
"Ket agpadala met isuna (Sonia) ti allowance kini ading na, impaw-it na pay ajay laptop na tapnu adda usaren ni ading na ti online class na ta nangala met ti kurso nga ag mestra" (She, (Sonia), sends allowance to her younger sibling and even sent her a laptop for her online classes for her course in education), she proudly shares about her daughters.
"Ket kwarta da ata, agtintinulong da gamin nga agkabsat ta gamin idi adda maawat mi nga pay out ket aggudwa da kini manang na, isu ta nakalpas met ti civil engineering, ni manang na met ti tumulong kanyana. Imbagak met kanyada nga ag eskwela da ah ta isu mangisalun-at ti biag mi"(That is their money. They help each other just like when we received grants, they each got a share and now that she (Sonia) is an engineer, she in turn would help send her sister through college. I remind them that it is education which will eventually lead us out of poverty), Rosemarie beams.
Coming from a Tuwali upbringing, she and her husband had not understood the value of education and thus both failed to seek for a higher education. Through the Community Family Development Sessions (CFDS) that she attended regularly, she began to understand the importance of placing value to a profession and the significant role that they, as parents, play in nurturing the dreams and aspirations of their children.
As for herself, she was motivated to be involved in her community becoming the Zone Leader for senior citizens even when she was not yet a senior citizen herself. This paid off and eventually she was appointed as a barangay Treasurer. Her husband on the other hand worked as a security guard for a Service Cooperative. Aside from that, the family maintained a small agricultural lot under tenancy and a backyard garden for home and additional income.
When Shame brings pride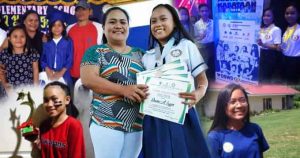 Contrary to her name, Shame Adanza from Lagos has brought so much pride bringing honor to her family and their community. In 2019, she has been adjudged as exemplary child provincial winner from Zamboanguita, Negros Oriental, and one of the four regional exemplary children in Central Visayas.
She believes that the high road to success is not a one-stop shop but a combination of education, hard work, dedication and patience that would allow her to reach the higher pedestal.
Rofer, her father, works as an on-call carpenter and construction worker for their daily needs while her mother, Luz, is a housewife who takes care of the property owned by a relative and at the same time a catechist. Luz works as a service crew when she gets a call from a catering service. Shame has two other siblings namely: Caster Nash, her elder brother, and Sharmelene, her younger sister.
Notably top of her class, Shame is a consistent first honor from grade one to six and represents her school in the district level competitions.
 "To be an honor student is not easy but I need to study hard because it is the only way I can return back all the sacrifices of my parents and also to the government who is supporting us," Shame said as she keeps herself to be in school always so she won't miss out on any lessons.
Shame's parents believe that the achievement of their children, especially of Shame's is another way of giving back to the government.
"Wala mi makatapos sa among pag eskwela apan ang among mga anak nga nagpakita og kamaayo sa klase gahatag kanamo og kadasig sa pagpanginabuhi sa pang adlaw-adlaw (We did not finish our studies but that fact that our children are doing well in school makes us inspired everyday)," Rofer said while assuring support to Shame in achieving her dreams.
Shame aims to become a nurse someday. She wanted to save lives, give comfort to those who are in need and bring happiness to individuals and families.
"I want to be a nurse someday para makatabang ko sa mga nagkinahanglan (to help people in need) and also to serve my country," explained Shame. ###
(Stories are originally published at: 1) DSWD Region II – https://fo2.dswd.gov.ph/2020/10/helping-each-other-the-story-of-a-former-4ps-family/; 2) DSWD CARAGA – https://caraga.dswd.gov.ph/2020/06/4ps-beneficiary-steps-up-for-her-community/; and 3) DSWD Region VII – https://fo7.dswd.gov.ph/2020/04/01/when-shame-brings-pride/)