Quezon City – As her nimble feet gracefully moves with the cadence of the bamboo sticks, 11-year old Christine Arche jives to the rhythm of the Pinikpikan music as she performs a well-timed tribal dance at her abode in Barangay Maliwanag.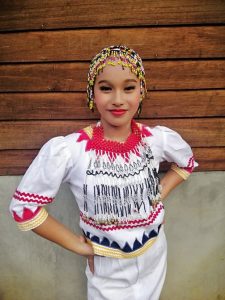 A barangay in Esperanza, Agusan del Sur, Maliwanag is a haven to the indigenous tribe recognized as one of the largest tribes in the Province, the Banwaon people. The name Banwaon is derived from the word banwa which means "home."
The Pinikpikan dance patronizes and promotes everything indigenously Filipino by showcasing cultural values of the IP tribe through graceful and fluid dance moves following the rhythmic and melodic sounds played from indigenous instruments.
Even in these modern times, the Banwaons have managed to keep their culture and traditions intact, such as the close-knit family ties, ceremonial offerings, and knowledge in farming and fishing.
Ifugao province is a home to several Ethno linguistic groups. Among them is the Tuwali, where couples' John and Paula Ballogan belong.  As members of an indigenous community, they raised their family with cultural values while integrating the influence of the society outside their community.
Annually, the nation observed Indigenous Peoples' month every October. This is to celebrate the rich culture and heritage of Filipinos as well as commemorate the signing of the Indigenous Peoples Rights Act" (IPRA).
DSWD, together with the different National Government Agencies implements the Pantawid Pamilyang Pilipino Program, popularly known as the 4Ps. Since its pilot in 2007, the program continues to serve more than 600,000 IP households based on its data released in June 2020.
Pursuing education amidst financial shortage
With the meager income that her parents earn, they cannot afford to hire a babysitter, thus her mother had to carry her to school while teaching other children. She remembers feeling all the love and attention from her parents even when she was still three years old back then.
Christine grew up to be a responsible, talented, and intelligent kid. She was a consistent honor student from Grades 1-5, and is active in all extra-curricular activities in the school – she even is one of the most active members of Girl Scouts of the Philippines (GSP).
Now that she is already in sixth grade, she reminds herself to study hard and chase her dreams, because she wants to help her parents in uplifting their living condition.
 "Ang 4Ps ay nakapagbigay ng pag-asa sa mga batang mahirap na katulad ko na nangangarap na makatapos sa pag-aaral. Sa kabila ng lahat na aking nakamit at natutunan sa eskwelahan at sa komunidad, bilang batang 4Ps ang pinakamahalaga para sa akin ay ang pamilya at pagkakakilanlan. Ito ay maituturing ko na aking munting tagumpay (The 4Ps gave hope to poor children like me who dreamt of finishing school. Aside from everything that I have learned in school and in the community, as a 4Ps child, the most important for me is family and identity. This, I consider, is my little feat)," Christine shared.
Christine believes that the fluid dance steps, the sound of loud and melodic brass gongs, and sophisticated, elegant garments and dresses, are legacies for the next generations of the Banwaon tribe in their remote community. But with the MCCT-IP modality, the 4Ps grantees are certain of a more hopeful heritage for tomorrow
John's window of opportunity
With very limited opportunities and scarce resources, John has to juggle everything to provide the needs of his family and the medication of his wife who is suffering from goiter. He took all sorts of jobs from construction work, farming, and on-call daily labor work. Despite his doubled efforts, he was still drowned with increasing expenses and debts.
In 2009, his family were among those that were enrolled in the 4Ps. John recalled that, at first, he was only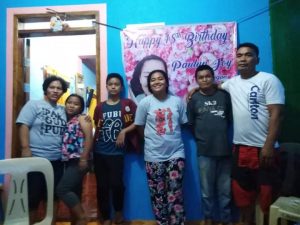 interested to comply with the conditions of the program just for the cash subsidy. But he later realized the holistic purpose of the program through the monthly family development sessions (FDS). The FDS is a monthly psycho-social and education intervention for 4Ps beneficiaries to improve their parenting capabilities and to encourage them to become more active members of the society.
 "Ang FDS ay isa sa naging daan upang matuto ako ng mabuting paraan ng pag-papamilya. Alam ko sa sarili ko na isa akong responsableng ama at asawa ngunit mayroon pa pala akong mga tungkulin na dapat gampanan. Lahat ng mga salita at payo na naririnig ko o ng asawa ko tuwing FDS ay nai-a-apply namin sa loob at labas ng aming pamilya (The FDS taught me how to properly manage my family. I believe that I am a responsible father and a husband but the activity taught me to do better in my roles. We also apply all the learnings we gained from the FDS inside and outside our family)," John shared.
John's family now manages a small store they started from the savings they set aside from their cash grant. They were also able to build a concrete house that is now good enough for their family. With their small business, John was able to buy a tricycle as an additional source of income for the family. The family is also committed to maintaining their backyard garden.
Institutionalization of the 4Ps
4Ps was enacted into law in April of 2019. It has become the national poverty reduction strategy of the government that invests in health, nutrition, and education of the eligible poor households. In addition, the program also provides psychosocial and psycho-educational components through the Family Development Session leading the beneficiaries to an improved and sustained well-being.
Program beneficiaries receive cash grants provided that program conditions are satisfied. Among which are enrolment and attendance of children aged 3-18 years old in school; deworming of at least twice a year for children aged 1-14 years old; pre and post-natal check-ups for women; preventive check-ups to children aged 5 and below and attendance to monthly Family Development Session (FDS)  of at least one responsible person in the household.
Based on the law, households may receive 750.00 for compliance on health and FDS; children monitored by the program in elementary will receive 300 while those in junior high receive 500.00 and 700 pesos for children in senior high school. Cash grants are computed on a monthly basis where education grants will only be given maximum of 10 months per school year, covering a maximum of three children per household. In addition, each compliant household also receives rice subsidy amounting to 600.00 per month and TRAIN Law Subsidy amounting to 3600 per year.
The IPs, as among the disadvantaged members of the society, a sub-program was designed under the 4Ps catering to their needs while protecting their culture and heritage. ###