Women from poor households do not always get opportunities for higher education, good employment, and other things that are important to help them combat the poverty cycle in their own families. It seems that many do not regard women as important drivers of development.
But social protection programs like Pantawid Pamilya aim to stop this discrimination through opening doors to community participation, leadership opportunities, and personal growth for its women beneficiaries. It believes that women can become leaders and excel in different fields despite poverty.
Eighty-seven percent of program grantees are female (data as of September 2018), and attendees of the Family Development Sessions (FDS) or members of Pantawid Pamilya parent groups are mostly women. Pantawid Pamilya contributes in unleashing their potentials through linking them to services, activities, and programs where they can learn and improve their own abilities so they could shape the future they have always envisioned.
Women as community leaders
Norma Somodio is the fifth among the 12 children of her parents. She was born and raised in Sitio Dyandang, Brgy. Conrazon, Bunsud, Oriental Mindoro. Her family belongs to the Tadyawan Mangyan tribe. She did not acquire any formal education so she grew up knowing mainly two things: taking care of her siblings and attending to their farm. She wanted to go to school but to her parents, a diploma was of no use in doing household and farming chores. And like many girls in her tribe, she married at a young age.
But Norma does not allow her past to define her. The mother of three availed of the non-formal education offered by the different organizations that visited their community. She learned to read and write, and these skills have helped her a lot in doing tasks that a "no-read, no-write" would not be able to accomplish.
Norma is now married and her family is a Pantawid Pamilya beneficiary. The cash grants they regularly receive have been a great help for her kids' health and education since they live in a community with very limited economic opportunities.
Pantawid Pamilya also opened doors to personal growth and community service for Norma. She became a parent leader who helps in program implementation in the grassroots. She was trained how to lead her parent group and mobilize members for FDS and other Pantawid Pamilya activities. For the first time in her life, Norma felt a sense of purpose in helping the indigenous peoples in their community.
In 2017, Norma became the winner of the first Regional Search for Ulirang Parent Leader of Pantawid Pamilya MIMAROPA. She was recognized for her contribution in translating FDS modules to their ethnic dialect for the convenience of those who are not fluent in Tagalog.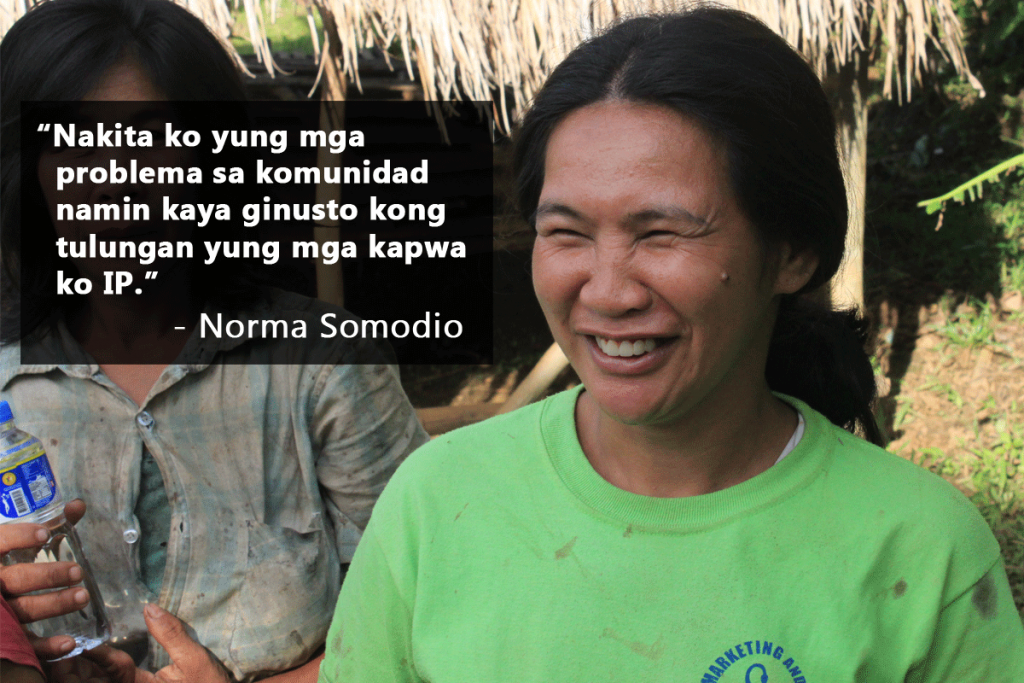 With the civil society organization iHelp Inc., Norma leads FDS discussions. She also assists parents in registering their children in the Municipal Civil Registrar and promotes personal hygiene and cleanliness in her community.
Norma does these and so much more.
She refers cases of violence against women (VAW) to concerned agencies. She volunteers to community works such as the construction of a building in Dyandang Elementary School. She gives pieces of advice on just about anything to her co-beneficiaries. She is a confidant.
From being a housewife, she gradually became an inspiration to the IPs in and out of her tribe and her co-beneficiaries of Pantawid Pamilya.
But why does she do all these pursuits? Her selfless answer:
"Nakita ko yung mga problema sa komunidad namin kaya ginusto kong tulungan yung mga kapwa ko IP."
Evangeline "Baging" Nalam of Sta. Catalina, Negros Oriental had the same passion for helping her community. She is a Pantawid Pamilya parent leader and an active member of different community groups, like Kababayin-an Buhata Federation and Cawitan Fisherfolks Farmers Association.
The 59-year old mother knows that she also needs to enhance her abilities to be a change agent that is why she voluntarily attends different training seminars and workshops of Pantawid Pamilya, non-government organizations, and local government units. She learned about mediation and how to deal with conflicts, reproductive health, gender and development, VAWC, and responsible parenting, among others.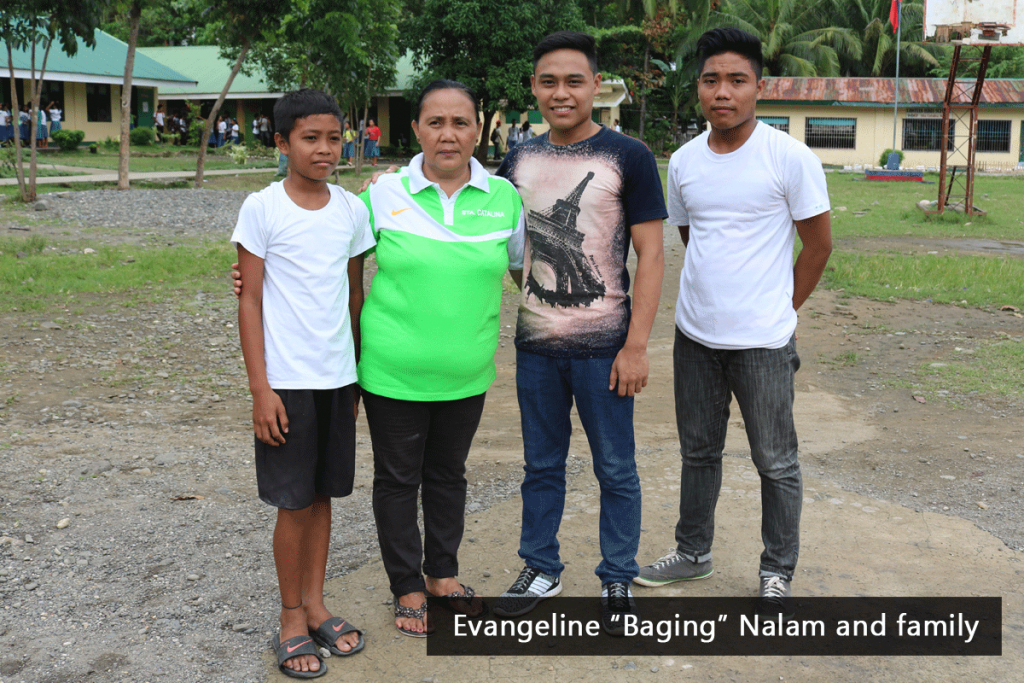 Baging also enjoys learning from FDS and sharing her knowledge on family and community development to her neighbors and friends who come to her for advice or help.
She does volunteer work as well. She joined the Philippine National Police's advocacy on gender sensitivity and Kalahi-CIDSS' (Kapit-Bisig Laban sa Kahirapan – Comprehensive Integrated Delivery of Social Services) road repair project.
How does she balance doing all these community works, managing her household, and working as a food vendor and a seamstress?
She said she has a family that enables her to do all these. Her four kids, who are, thankfully, not pasaway help her accomplish things around the house so she could pursue her advocacies and passions. She feels blessed that they grew up kind and helpful despite not having a father. Her husband died more than a decade ago, and overcoming the hardships of being a solo parent was another accomplishment she has achieved.
Her dedication to her family and community was recognized during the National Search for Huwarang Pantawid Pamilya 2017 where they won first prize. Her family's togetherness and sense of unity greatly helped in making the most of the assistance they get from Pantawid Pamilya.
"Simula noong mawalan ako ng asawa hindi ako nag-isip kung ano ang wala kami. Nag-focus ako para magkaroon kami ng unity sa pamilya," said Baging.
Interacting with other Pantawid Pamilya beneficiaries as parent leaders and paying attention to their surroundings inspired Norma and Baging to do something for their communities. The program became an instrument in empowering them to create the change they dreamed of.
Second chance at education
Many solo parents experience judgments from people who do not have compassion for their struggles in balancing work, family life, and personal aspirations. Rigie May Marbella and Jaysan dela Cruz, Pantawid Pamilya beneficiaries, were not exempted from prejudices.
There were people who questioned Rigie May's ability to finish school with a baby in tow. It just was not possible for her, they thought. She was poor, unemployed, and unmarried.
But the 23-year old learned not to care even though other people's judgments hurt her and her parents. She focused on studying, determined to finish her elementary education course at Bicol State University and make her parents proud.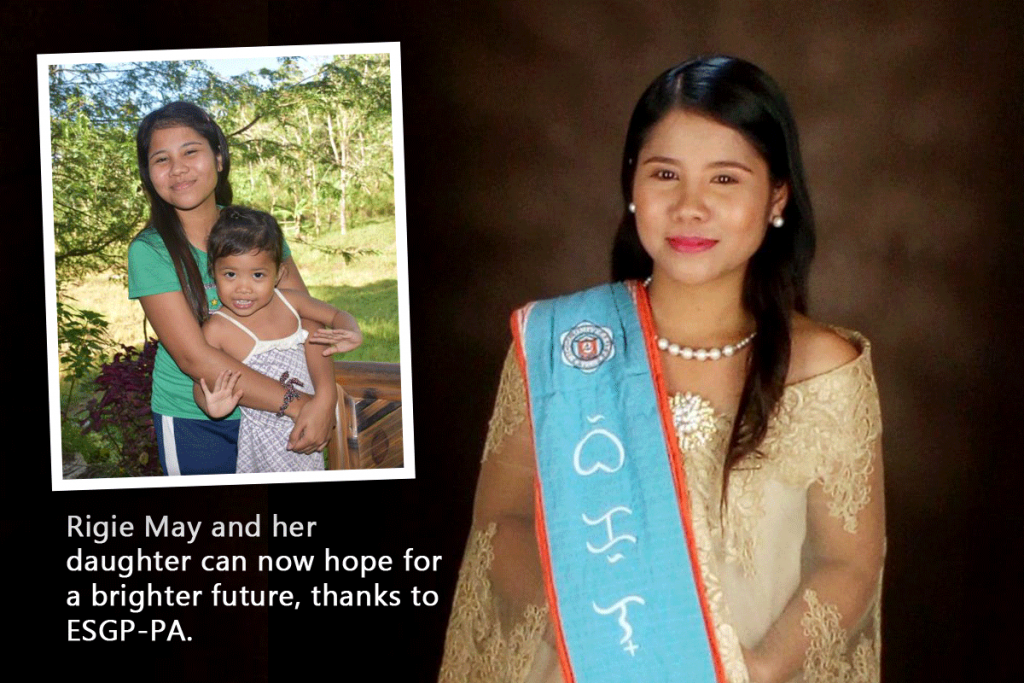 "Nagpapasalamat ako sa magulang ko nang sobra sa pagtanggap nila sa akin at sa pagsuporta sa kabila ng lahat. Sila ang naging sandigan ko. Tinulungan nila ako sa pag-aalaga sa anak ko tuwing kailangan kong iwan siya upang bumalik sa paaralan," said Rigie May.
Jaysan, 26, also suffered the same fate, but aside from people's criticisms and the struggles of making ends meet for her family she was hurt by her broken relationship with the father of her two kids. These greatly affected her confidence and drive to finish her Mathematics and Science Elementary Education course at the Philippine Normal University Agusan Campus.
"I have heard a lot of criticisms from people just because I got pregnant at an early age. There were times when I looked back to the life I had before, and I felt I wanted to go back to that point of my life to change it," she tearfully shared.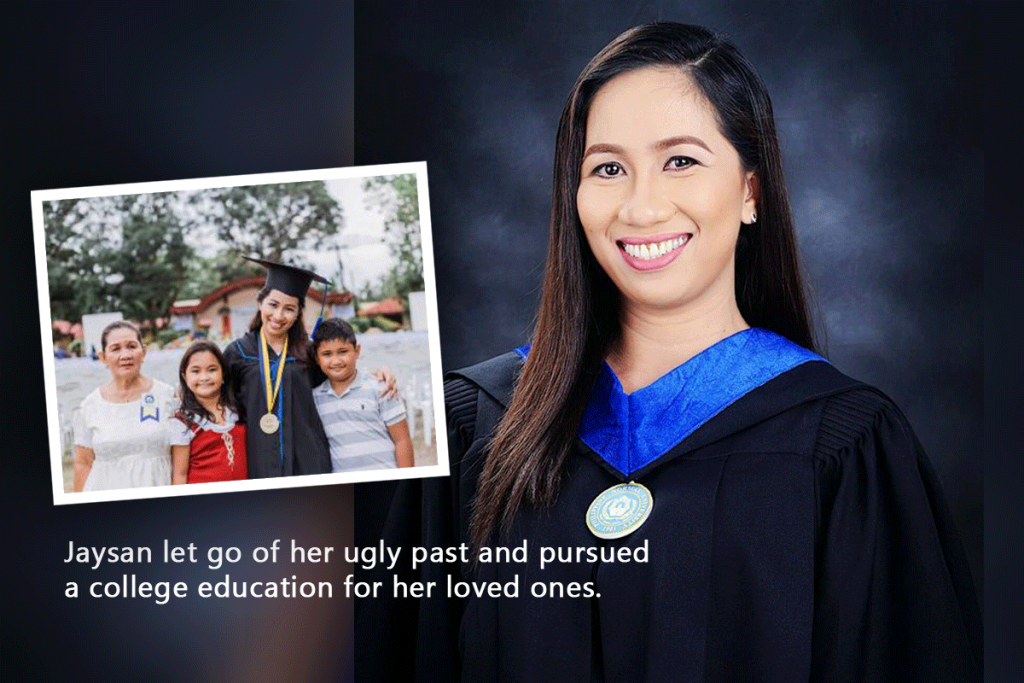 But the hard work and perseverance of Rigie May and Jaysan changed their bitter past. With the assistance from Pantawid Pamilya and Expanded Student Grant-in-Aid Program for Poverty Alleviation (ESGP-PA), they got another chance at life.
ESGP-PA is a college education program for beneficiaries of Pantawid Pamilya. From 2012 to 2018, it provided the grantees with opportunity to get a college education and increase their chance to get better employment in the future. It was a program implemented by the Commission on Higher Education (CHED), Department of Budget and Management (DBM), Philippine Association of State Universities and Colleges (PASUC), Department of Social Welfare and Development (DSWD) and Department of Labor and Employment (DOLE). It aimed to help the grantees uplift their living condition and become contributors to national development.
Through Pantawid Pamilya and ESGP-PA, the two graduates were able to exceed the expectations from women from poor households who usually stay at home to take care of their children and family. Rigie May received honorific academic awards, while Jaysan graduated magna cum laude.
On May 2018, Rigie May and Jaysan were two of the students who were recognized during the Araw ng Pagkilala, a gathering of Pantawid Pamilya ESGP-PA grantees and senior high school graduates from different parts of the Philippines. The event was a recognition ceremony and venue for sharing experiences and stories of the journey of Pantawid Pamilya beneficiaries. The participants were introduced to CHED's UniFAST (Unified Student Financial Assistance System for Tertiary Education); DOLE's and TESDA's trainings and employment opportunities; and a career orientation from More Than Jobs PH.
With a college diploma, the two mothers found redemption as they move forward to provide a better future for their children. But even without the accolades from their respective universities, they already proved that women, even from poor households, have great potentials just waiting to be nourished by proper interventions and opportunities.