Pantawid Pamilya caters to the poorest of the poor Filipinos through ensuring that children beneficiaries have access to education and health services and linking their families to opportunities and interventions that can complement the investment made to the children. As a human development program, Pantawid Pamilya aims to provide opportunities to the poor and marginalized, including persons with disability (PWD), solo parents, and indigenous peoples who experience multiple layers of discrimination. It dreams of development that does not leave anyone behind.
Supporting solo parents
As of September 2018, there are 269,522 solo parents in the program, representing 6.3% of the Pantawid Pamilya households nationwide. The "Solo Parents Welfare Act of 2000" (R.A. 8972) recognizes solo parents as part of the disadvantaged sector in the country, and Pantawid Pamilya understands the plight that they go through every day in raising their families on their own.
Charliet Hingpit, 45, is a labandera. Doing other people's laundry and accepting menial jobs have been her source of income to feed her six children since her husband left them in 2010. Being abandoned by her husband was one of the biggest challenges in Charliet's life. Their provider was gone, and she needed to be in-charge. But the abandonment was a blessing in disguise because it meant that the beatings and cheating had ended. It was a moment to finally have a new beginning, she thought.
With Pantawid Pamilya, Charliet saw an opportunity to start a new life. It became her partner in addressing the health and education needs of her kids. The weight of raising them singlehandedly was eased.
"I've been through a lot especially when my husband left me. But those times made me realize my purpose as a mother, as a parent, and that is to provide the needs of my children. I may have no luck in having a responsible husband but at least I have my children, my treasures," said the mother of six.
Being a solo parent made Charliet realized a lot of things about herself. The lessons on violence against women and their children (VAWC) and gender equality, which she learned from Family Development Sessions, helped her boost her self-worth. She became active in her community as a parent leader and member of Sustainable Livelihood Program-Payapa at Masaganang PamayaNAn (SLP-PAMANA) in Diatagon, Lianga, Surigao del Sur.
In 2017, Charliet's family won the 2017 Regional Search for Huwarang Pantawid Pamilya in Caraga. She inspires them to be hard working and do their best.
"I am thankful to have a mother who is not just responsible but also our role model and inspiration to do well in our studies," said Jyles, her second son.
Pantawid Pamilya continues to improve as a program to support solo parents. DSWD Cagayan Valley, for instance, took the initiative to develop the FDS module "Special Sessions for Solo Parents" to empower solo parents and increase their participation in FDS where discussions on gender-related topics require the attendance of husbands and wives. The module was launched during the Solo Parents Congress in 2017, and similar efforts are being conducted by the regional and national program management offices of Pantawid Pamilya to make solo parenting less burdensome for beneficiaries.
Equal opportunities for IPs
Mary Joy Baylon and Juda Diclay are indigenous peoples whose life stories involved a number of discrimination against their tribes and being a minority.
Mary Joy has probably heard all the possible insults against IPs and the color of her skin. She is an Ati living in an IP community in Sitio Igtuba, Brgy Camangahan in Guimbal, Iloilo. Livelihood opportunities are also limited in their community so like the other people in her tribe, she was born and raised poor. She sold vegetables and native delicacies in her neighborhood to help her family make ends meet.
Twenty-five-year-old Juda Diclay, on the other hand, experienced a lot of demeaning from other people before becoming the first college graduate of the Tau't Bato tribe in Palawan. Most of the children in her tribe gave up their dream of getting a college diploma because the opportunity for a formal education is so rare and the discrimination against IPs is very common. It was not an encouraging combination.
Pantawid Pamilya operates to improve health and education outcomes for poor children and to bridge marginalized people, including the IPs, to livelihood and education opportunities so they will be empowered in making a better future for themselves. To date, Pantawid Pamilya serves 661,982 IP households.
Sustainable Livelihood Program (SLP) and Expanded Students Grants-in- Aid Program for Poverty Alleviation (ESGP-PA) are two of the programs that help Pantawid Pamilya beneficiaries have a better chance of getting out of poverty.
Mary Joy was able to find a job as a security guard after attending a capacity building and training program conducted by SLP. It may be a small-time job for many, but for Mary Joy and her family, it was a break they needed to support their everyday needs.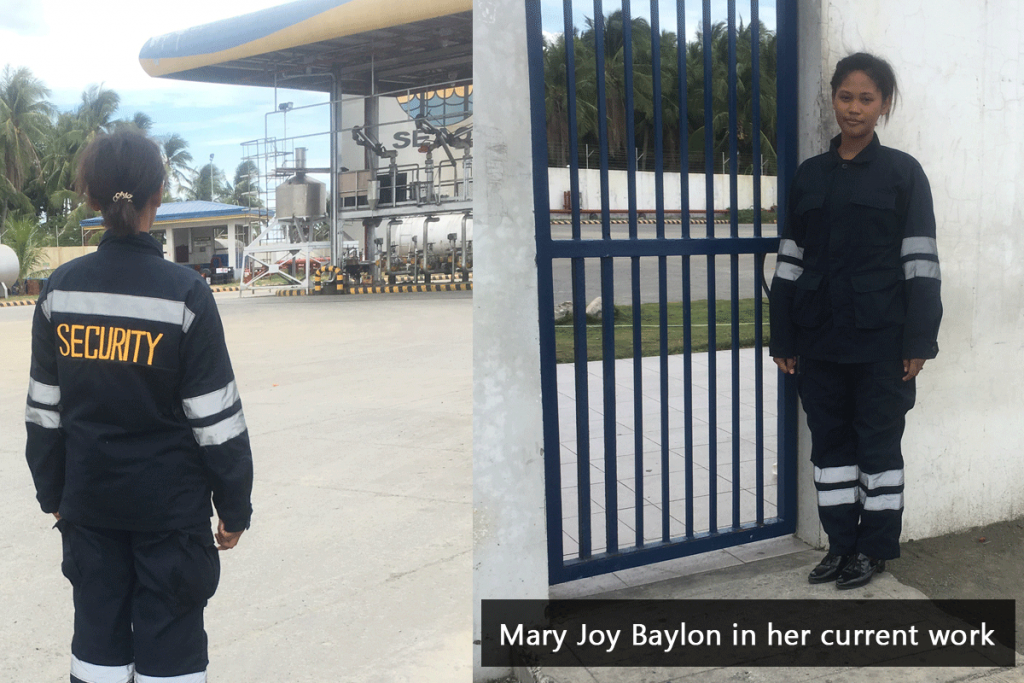 In 2018, Juda graduated from college, thanks to the assistance from ESGP-PA, a college education program for Pantawid Pamilya beneficiaries implemented by the Commission on Higher Education, Department of Social Welfare and Development, Department of Budget and Management, and Department of Labor and Employment, and Philippine Association of State Universities and Colleges.
Despite the judgments from other people and the challenges brought about by poverty, Juda persevered to finish her journey to finally getting a bachelor's degree in elementary education. She used the insults and the discriminations as motivations to pursue her dream of becoming a teacher.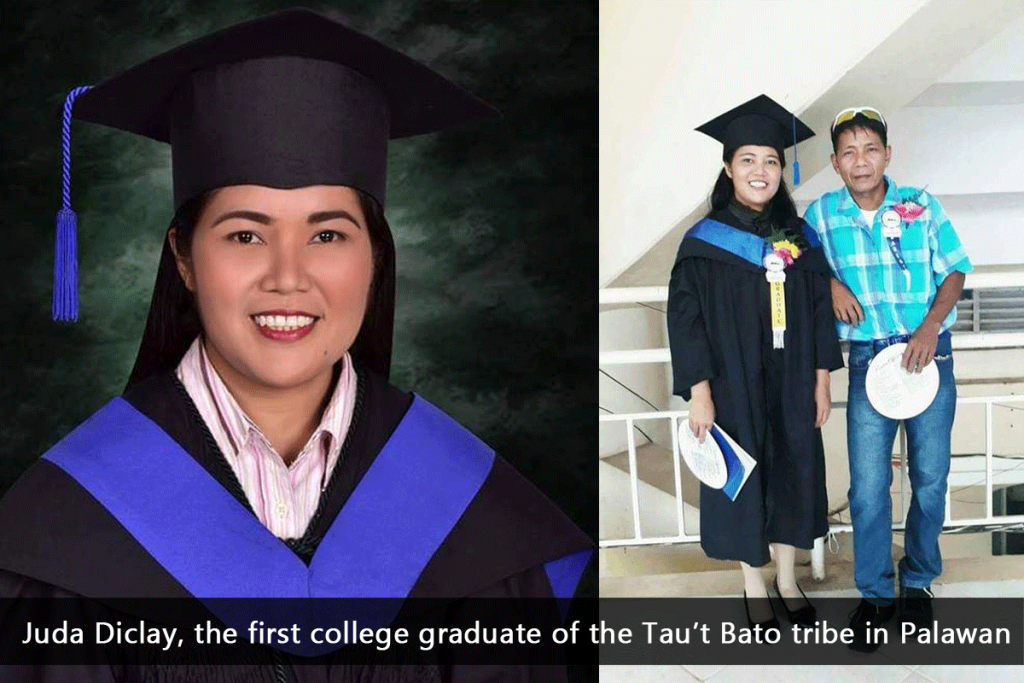 She shared, "Ito ang mga naging motivation ko para ituloy ang pag-aaral para maging guro."
Empowering PWDs
The physical limitations caused by his disability limited Joshua Geno Cruz's capacity to do what other high school kids usually enjoy. He could not run and play outside or participate in extracurricular activities that are physically demanding. He has a cleft palette and hand and leg deformities. Who would have the confidence and drive going to school every day with a condition like Joshua's?
But Joshua is an optimistic student and does not allow negativities deter him from giving his best despite his disability.
"Noong bata pa ako, siyempre hindi naman po maiiwasan iyong makarinig ng panunukso ng mga kaklase mo at ng mga ibang tao. Pero kailangang lumaban eh," he said during an interview for a Manila Bulletin article written by Bb. Pilipinas-Universe Catriona Gray.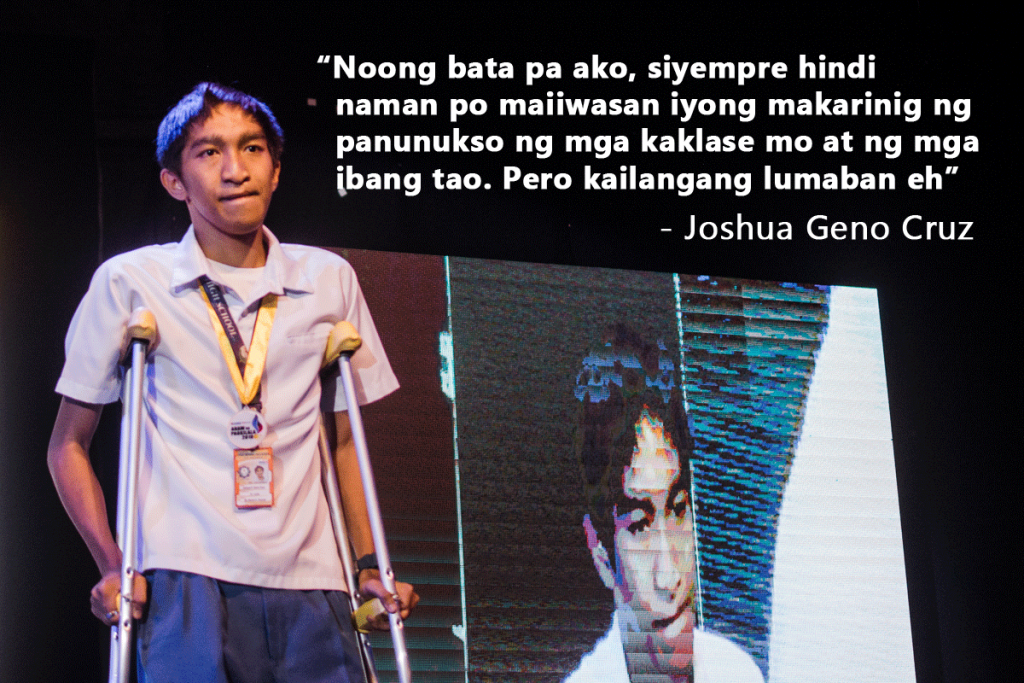 The interview took place during the Araw ng Pagkilala 2018 where the hard work and perseverance of 200,000 Pantawid Pamilya senior high school graduates and 30,000 ESGP-PA grantees were recognized. Joshua was one of student beneficiaries who graduated from senior high school in 2018.
Pantawid Pamilya ensures that all children beneficiaries, PWDs included, are given a fair chance to go to school and be empowered by education. Their education grants can be used as baon, transportation allowance, and means to make school projects. Students from poor households always worry about these things, and Pantawid Pamilya aims to address these through giving compliant students cash provisions: Php 300 per month for an elementary student and Php 500 per month for a high school student.
Pantawid Pamilya envisions a country that can provide education to the poor. It is designed to alleviate the problems of student beneficiaries caused by poverty and to bridge them to education, a weapon they can use to improve their living condition. It makes students like Joshua be confident that change is possible for PWDs.