Marjorie Dulag used to fear that the police would confiscate the vegetables she sold along the streets and sidewalks of Baguio City. Sidewalk vending was illegal but it was the only source of income of her family. If the goods were sequestered, there was a chance that Marjorie's family would not eat or buy other necessities.
"Nagmakaawa ako sa pulis, kasama ang anak ko, na 'wag nalang kunin yung mga binebenta namin. Pero, kinuha parin nila," said the 41-year old mother of four as she recalled how the police seized the vegetables she tried to sell.
Making a living was also not easy for Genoveva "Ebeng" Castro of Buenavista, Bohol. She learned handloom weaving when she was 13 years old. It was the only job that she knew. Her husband is a farmer, and the money they make combined still would not suffice to support their family of five. Ebeng's children still all go to school and had high hopes of pursuing college education. But with Php8,000.00 monthly income, she knew it was not feasible.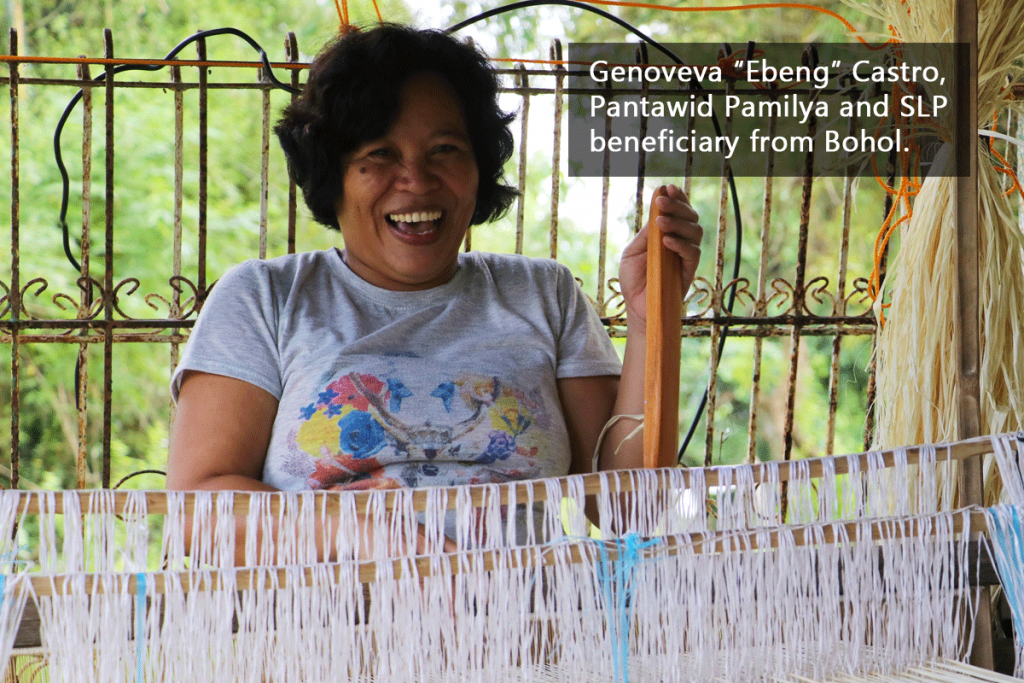 Filipinos are born hardworking, however, a good opportunity to jumpstart a small business or improve livelihood skills does not always come by. Marjorie and Ebeng are two Pantawid Pamilya beneficiaries who needed livelihood and capacity building assistance to improve their living condition. Through the Sustainable Livelihood Program (SLP) of the DSWD, the two women and other beneficiaries are given access to opportunities to start a sustainable livelihood, to be employed or trained to hone or gain new livelihood skills.
In 2014, Marjorie and five of her co-beneficiaries were given an opportunity to establish a stable source of income through SLP. Using the Php 42,000.00 loan granted to them, they rented a small space in their neighborhood in Bakakeng Norte, Baguio City and put up a sari-sari store where they also offer fruits and lowland vegetables.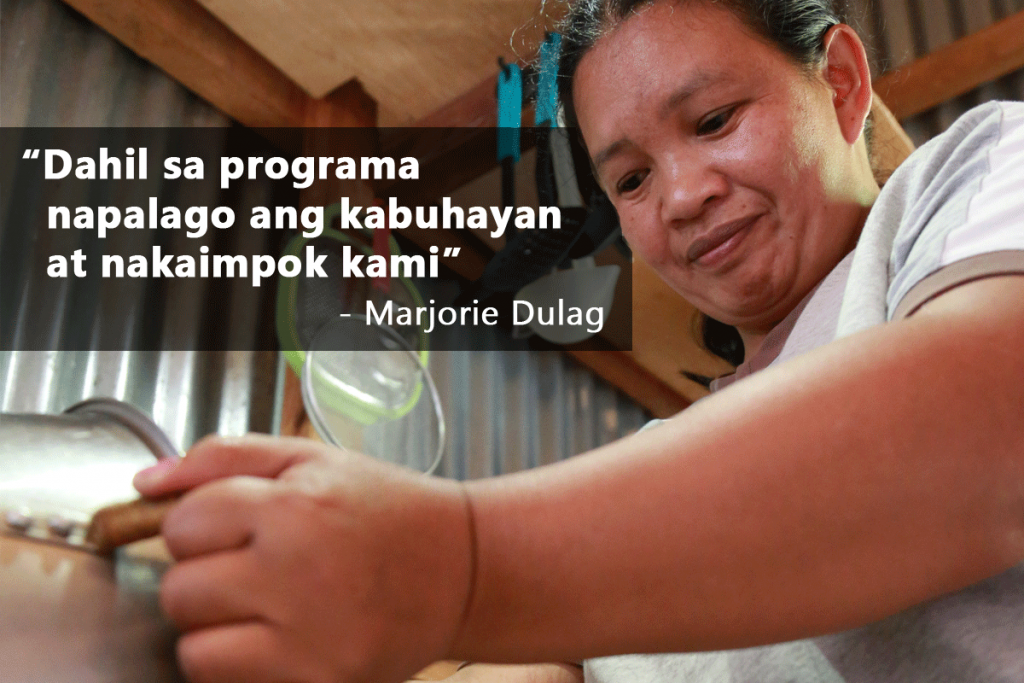 No more selling on the sidewalks or fearing the police for Marjorie since then. She focused on their store and started making peanut butter which she sells to pasalubong stores in the city market.
Two years after they received the assistance from SLP, they were able to pay off the loan.
"Dahil sa programa napalago ang kabuhayan at nakaimpok kami," Marjorie shared.
Now she is earning at least Php 7,000.00 every month. The amount is accumulated from her weekly income of P 1,250 from supplying peanut butters and P2,000 share net income from their sari-sari store.
Ebeng, meanwhile, was able to attend a training for handloom weavers conducted by the Department of Trade and Industry and SLP. She received a handloom machine as a starter kit so she could make different raffia designs that come in various colors. She used to only know weaving white raffia but now Ebeng makes colored placemats, table runners, braided raffia knots for kitchen pots and other decorative materials. From Php 2,000.00 monthly income in raffia weaving, her family now earns at least Php 7,200.00 a month.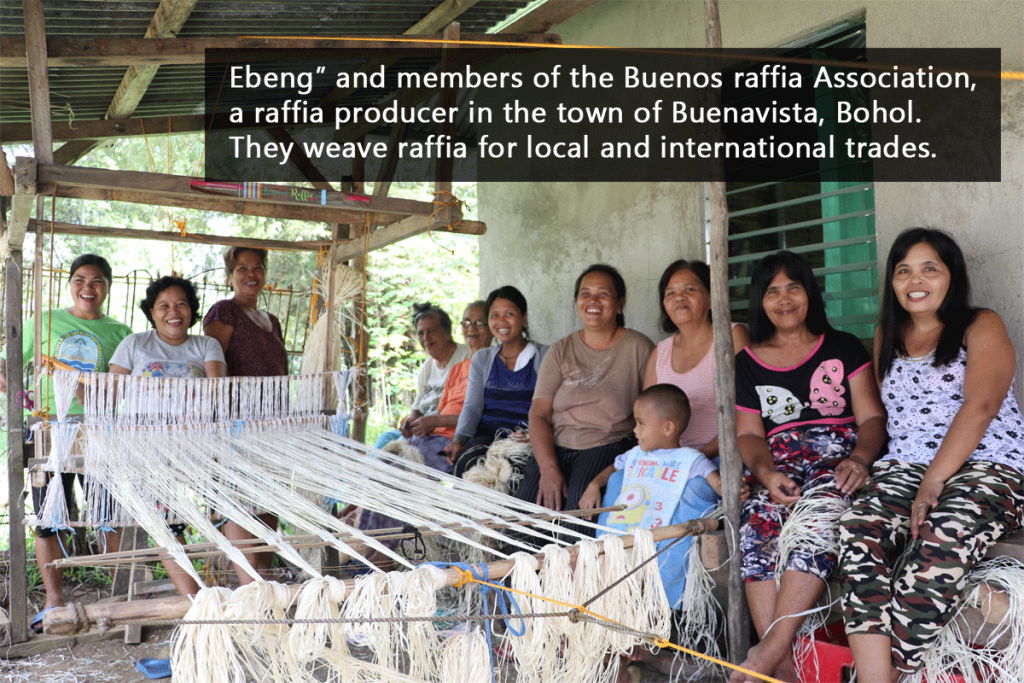 The assistance from SLP did not only upgrade her skills but improved her confidence as well.
"Sa una, wa koy lain gihimo kundi mga plain lining ra sa raffia. Pero karon, akong pasalamat sa DSWD-SLP sa livelihood assistance nga ilang gihatag og sa DTI nga nag-train kanamo kay napun-an jud akong kahibalo sa paghabol og lain-lain nga disinyo sa raffia (Before, I only knew plain raffia weaving. And now, I am grateful to the DSWD-SLP for the livelihood assistance they have provided us and to the DTI for honing our skills because I can now weave various and creative raffia designs)," said Ebeng.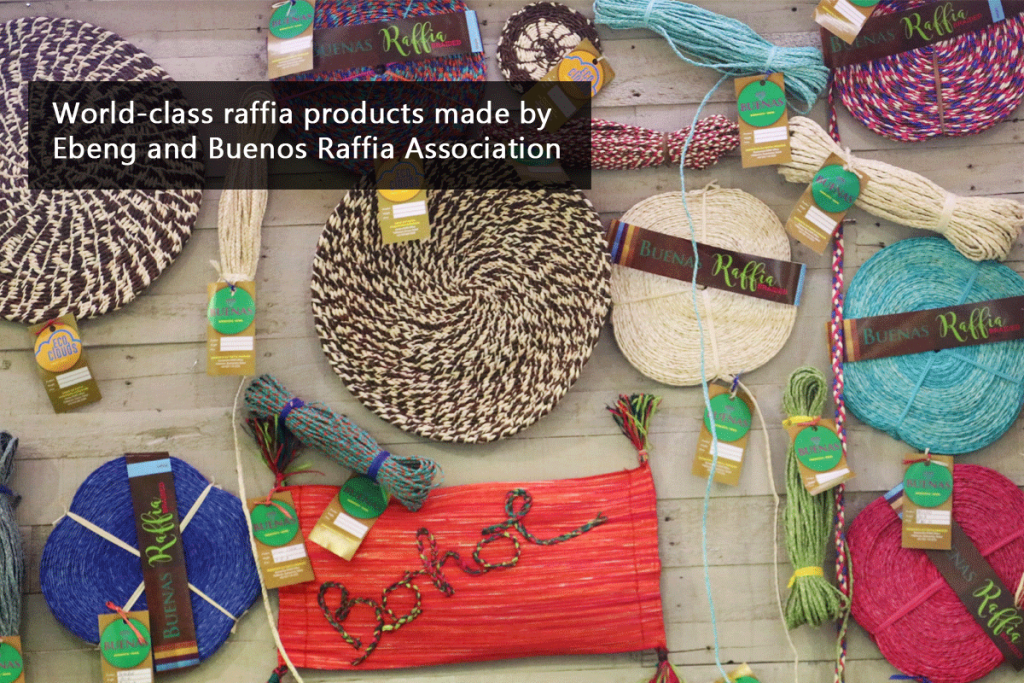 Like Marjorie and Ebeng, millions of Pantawid Pamilya beneficiaries have benefitted from SLP through microenterprise development and employment facilitation. From January 2011 to September 2018, a total of 1,210,912 Pantawid Pamilya beneficiaries were referred to and funded by Micro-Finance Institutions and other formal lending institutions. There are 369,162 Pantawid Pamilya household beneficiaries were employed through Trabahong Lansangan in partnership with Department of Public Works and Highways (DPWH). Through SLP, beneficiaries were also provided with guaranteed employment by various public and private partners.
A sustainable livelihood is important for beneficiaries to complement the Pantawid Pamilya cash grants they receive which are meant for their children's health and education. This way, they can focus on managing their livelihood or job and need not worry about school and medical expenses. Their earnings are used to pay off the loan, operate their microenterprise, and augment their household income.
With a sustainable livelihood and ensured education and health assistance for their children, Ebang is more confident to provide for her children's college education.
Marjorie is also relieved that she does not have to illegally sell vegetables on city sidewalks. She and her family have now a safe space for their livelihood.
"Naalala ko na sabi ng anak ko, 'Ma, maganda 'to na hindi na tayo nagtitinda kung saan-saan na gilid'," Marjorie happily shared.