Around 34,000 students from the Pantawid Pamilyang Pilipino Program (4Ps) are expected to graduate this school year under the Expanded Students Grants-in- Aid Program for Poverty Alleviation (ESGPPA). The ESGPPA is implemented by the Commission on Higher Education together with the Department of Social Welfare and Development (DSWD), Department of Labor and Employment (DOLE) and State Universities and Colleges (SUCs).
"We commend our graduates for making it this far. We also laud the unwavering support of their families that brought them to where they are right now. Despite the hardships and the difficulties, they did not falter," shared Emmanuel Leyco, Officer-in-Charge of the DSWD.
In 2012, SGP-PA was launched covering 4,000 students. This was later on expanded (ESGP-PA) to cover additional 36,000 students in 2014. The program provided opportunities to 4Ps households who have children who are determined to pursue college education and qualified for the scholarship. A college degree for the children-beneficiaries opens an opportunity for them to access better employment and help them improve their lives.
"We recognize that having a degree will not immediately translate to an improved quality of life, but it's a stepping stone that will lead them to better opportunities. Through the program, we have given these poor children as well as their families a fighting chance to a better quality of life,"added Leyco.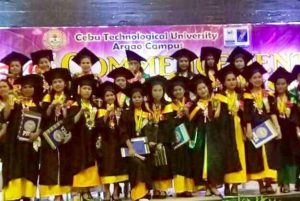 Beneficiaries of the program are required to take up courses that are among those identified with the national development plans manpower demands. These include Information Technology (IT)-related courses in agriculture, education, science and math, engineering and health sciences-related courses.
The 4P's or Conditional Cash Transfer (CCT) is a program of the national government that invests in the health and education of poor households primarily of children aged 18 and below. It is implemented by the DSWD together with other government agencies to include the Department of Education (DepEd) and Department of Health (DoH). It provides cash grants to compliant household beneficiaries with health grant worth P500 and educational grants worth P300 and P500.00 each to the children studying in elementary and high school, respectively.
As of 30 March 2018, there are 4.3 million households enrolled in the program.