Exemplary 4Ps children groomed to be advocates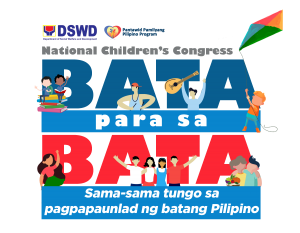 The Search for Exemplary Pantawid Pamilya Children showcases Pantawid Pamilyang Pilipino Program's (4Ps) model student beneficiaries who excel in their respective homes, schools, and communities. Every year, the search features a diverse group of children beneficiaries who have the same passion for education, health, and advocating for the causes they believe in.
In 2019, 4Ps showcased a new batch of exemplary children during the National Children's Congress 2019 wherein they discussed issues affecting children and formulate solutions from their own viewpoint.
Raised by her mother singlehandedly, Angel Pollero of Pulilan, Bulacan understands the value of education in getting her family out of poverty. Her passion for education is gradually paying off as she gathers awards and recognitions for her active participation in school organizations and competitions.
Irish Mancera, who hails from Banna, Ilocos Norte, does not shy away from sharing her talents to other people. She loves singing and dancing, and in fact won as Ilocos Norte's Provincial Winner in Dance Sports Competition.
The 'Little Pastor' from Cordova, Cebu was encouraged by his Christian family to play musical instruments in their church. His talent and passion for playing the piano, guitar, drums, and ukulele are admired by his classmates, teachers, and neighbors. 
Jeorge Benedict Galon of Naga City, Bicol is quite fond of joining singing contests. He enjoys it so much that sometimes it does not feel like competition at all for him.
Focusing on her studies is the main priority of Frelie Mae Soberano from Aritao, Nueva Vizcaya. Education, she says, will enable her to reach for her dreams.
Joining school and community organizations, like the Barangay Disaster Action Team and Supreme Pupil Government, helps Johan Dave Tombo of Mati City, Davao Oriental develop his participatory and leadership skills. 
Despite coming from poor households, 4Ps children are big dreamers.
Frankie Orocay-Cainong who resides in Mercedes, Eastern Samar and Alaiza Nabong who lives in Baras, Rizal both want to become lawyers. Frankie loves sharing what he learns from reading books to his peers, while Alaiza aims to be the voice of the poor someday.  
Jilian Vianca Evora, a child-beneficiary from Baco, Oriental Mindoro has not yet decided if she wants to become an astronaut, a doctor, or an environmentalist. Perhaps through studying well and hard work, she plans to become all of it.
A resident of Mandaluyong City, Metro Manila, Rancell Salomia wants to pursue a career in broadcasting when she grows up because she wants to deliver the latest and unbiased news to people.
Through becoming a police officer, Mary Lyn Raganas of Mambajao, Camiguin believes she will be able to help in proper implementation of the law and protect the poor from violence and danger.
At such a young age, 4Ps exemplary children have also started their own advocacies.
Christian Kyle Balinan of Santa Marcela, Apayao wants to promote practices that maintain good health, like keeping the surroundings clean.  
Joshua Hipolito from Concepcion, Iloilo volunteers in coastal clean-up operations in their area together with other youth members mostly 4Ps beneficiaries like him.
Lingig, Surigao Del Sur's Athena Maxi Nonong wants to raise awareness on how to prepare for calamities and take care of the environment.
Zaira Jean Laya, who hails from Alabel Sarangani Province, is very passionate about stopping bullying in her school because of its negative effects to children's mental health.
Dane Mark Cuento, the 4Ps exemplary child from Sibutad, Zamboanga del Norte, believes that out-of-school youth should still get the education they need to have a better future.
The national winners joined more than 70 4Ps exemplary children in NCC 2019 to further develop their skills that could help them implement their advocacies. NCC's theme "Bata para sa Bata: Sama-sama tungo sa pagpapaunlad ng Batang Pilipino" encourages participants to advocate for causes they are passionate about. Undergoing NCC training and workshops enables participants to improve their presentation skills through creative approaches, like singing, dancing, acting, visual arts, and writing.