DAVAO CITY—Toiling the fields may not be her strong suit, but climbing posts or fixing neighbors' electrical wires is her trade, keeping her family fed, clothed, and her kids in school.
Bengily Villanueva, 33, a mother of four, feeds her family of six as an electrician. It's a newfound profession that she earned from a two-month training provided by the Davao Light Company.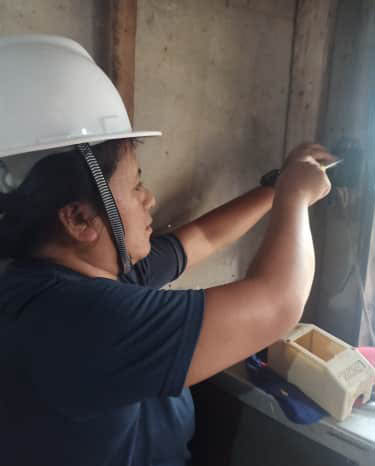 "I can perform a number of tasks," she said. "If you need an electrician, I can do it. I also have an NC2 in housekeeping… Recently, I trained with Davao City 911 as emergency medical responder."
According to her, she grabs every opportunity that comes her way so she would be equipped. When she was young, her parents told her they can only send her to elementary school. After graduation, she was made to plow rice fields.
Her eyes began to water while she recalled how her family used to stay in a relative's house one day and be kicked out to the streets on another day just because they have no house of their own neither do they have the money for house rental.
On top of that, they endured it with empty stomachs. Villanueva's heart broke seeing her children suffer the same poverty she endured while young.
Being part of the country's conditional cash transfer program known as Pantawid Pamilyang Pilipino Program (4Ps) in 2012 changed their lives. At that time, she received Php 900 educational support for her children and Php 500 health support every month. This had added to her husband's meager income as a company driver.
Through the program's' Family Development Sessions (FDS), a series of lectures on family relationships, prioritizing needs, home management, among others, she learned more about life and acquiring new skills which eventually led to more opportunities.
"Na-learn ko pa'no i -handle ang buhay ko( I have learned how to handle my life)," she said. "Yung akala mong wala ng tutulong sayo, meron pala. May mga iba't-ibang programa pala na pwede nating salihan. Kagaya ko, nabigyan ako ng chance na makapag-training bilang electrician. Ngayon pinagkakakitaan ko na sya. (Just when you though there is no one to help, there are. There are various programs that we can join. Just like me, I was given the chance to be trained as electrician. Now, I earned because of it)", added Villanueva
She also shared that it was her dream to finish a degree in Political Science. She believes that education is very important in improving one's life.
"Pangarap ko po talaga ng makapag-tapos ng college. Kaya noong nagkaroon ng opportunity, nag-enrol ulit ako para makatapos ng High school",(It was my dream to finish college. So when there was an opportunity, I enrolled again to finish high school)", she shared.
Villanueva graduated from DepEd's Alternative Learning System (ALS), making her eligible for college level in 2013.
Villanueva's family is one of the 240 beneficiaries in Barangay Indangan and 28,000beneficiaries in Davao City.
In 2017, Villanueva joined 19 beneficiaries in their barangay in the Basic Electrician Skills Training, a partnership of Davao Light and Power Co. and DSWD's sustainable livelihood program (SLP).
After their training, they formed the Barangay Indangan Electrician SLP Association and ventured in a small hardware business located inside the premises of their barangay hall. With the Php 285 thousand seed fund given through SLP, the association now caters to their community's electrical needs and is planning to expand their services.
Fermin Edillon, community relations manager of Davao Light, says that the power demand of the city is expected to grow tremendously, providing opportunities to the group.
"With this livelihood opportunity, dili na mi kapos kay naa nay dagdag income… Sa una kulang-kulang gyud. Arang-arang na karon compared sa una," Villanueva said.
For her, government aid like 4Ps and SLP are keys in pinning her goals to get out of poverty.
"Hanggang nandyan, i-avail ko yan (Until it's there [4Ps], I will avail it)" she said. "Basta alam ko na kung wala na, at least ready na ako. Yung education di yan mawawala sa akin (I just know that if it's no longer there [4Ps], at least I know I am ready. My education it cannot be taken away from me),"Villanueva concluded. The 4Ps is the government's national poverty reduction strategy. It is an investment in the health and education of program beneficiaries primarily of children aged 18 and below. Since the program's inception in 2018, it already registered 4.8 million households.