Education is seen as one of the effective weapons to combat poverty, but for many poor Filipinos, education remains elusive because it is out of their economic means to secure.
Ten years ago, the Pantawid Pamilyang Pilipino Program (4Ps), the country's version of the Conditional Cash Transfer (CCT) scheme was launched with the hope to curb poverty by investing in the health and education of children aged 18 and below who come from poor households.
In 2012, the Commission on Higher Education (CHED) opened slots to accommodate children-beneficiaries of the 4Ps who were interested in pursuing a college education. The Students Grants-in-Aid program for Poverty Alleviation (SGP-PA) contributes to the thrusts of the national government to address poverty by providing financial support for the higher education efforts of children from poor households so they can secure better job opportunities. From the more than 3,000 children-scholars, the program was expanded to cover 40,000 children qualified for the scholarship.
"Education is very important and we will continue investing in the education of poor children. Providing them with CCT, we are confident that they will have more means to combat poverty", said OIC Emmanuel Leyco of the Department of Social Welfare and Development (DSWD).
Education: A key to a better future
From facing uncertainty over the future, Danny Rose Martin is now one step away from fulfilling her dream of a comfortable life for her and her family.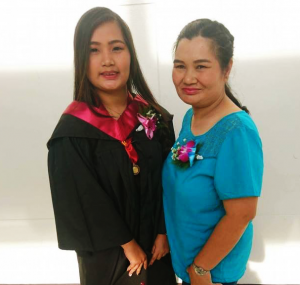 Danny Rose is the second of four children of Danilo and Rose Marie Martin from Brgy. Coloong, Valenzuela City. Even with their combined incomes, Danilo and Rose Marie found it very difficult to provide for the needs of their children.
Danny Rose shared that her father would take on odd jobs just to be able to buy a kilo of rice to feed the family. She also shared that they could not afford to have electricity in their house for years. They used only candles and lamps to light their home.
To help address the family's financial difficulties, Danny Rose found work as an all-around house helper at a young age. When she turned 18, she went on to work as a cashier at a mall to help augment her family's income and to be able to further her studies at the Technological University of the Philippines.
In 2014, their family was chosen to be a recipient-household of the 4Ps. Danny Rose became a scholar of the Expanded Student Grant-In-Aid Program for Poverty Alleviation (ESGPPA).
The stipend she received not only helped her meet everyday expenses for school, but also helped to ease the strain on the finances for her family. Aside from the financial assistance, she was able to take part in trainings and seminars with other ESGPPA students. This helped her develop her confidence, and she found a support system with the other scholars.
Danny Rose finally got her degree of Bachelor of Technology, Major in Welding Engineering and Technology on March 26, 2018.
Dreams do come true
"I never thought I would come this far. At seven, my mother passed away two months after giving birth to our youngest. As a single parent, my father works hard in the field to provide for our needs. This chapter of my life began with experiences of despair. I did not let the painful events weaken me. I became more determined to overcome every obstacle I encountered," said Hazel Achuela.
Hazel is one of the graduates of the ESGPPA, and last December she did not only pass the licensure exam for Agriculturists, but was also among the topnotchers (9th place).
Against all odds, Hazel chose to stand up and wave the banner of the Achuelas.
"Whenever I look back, I cannot help but weep. I cannot imagine how we were able to continue knowing that my family was incomplete. I never lost hope, I continued my schooling together with my three sisters," she said.
"When I was in elementary school, I was very happy whenever my father gave me PhP2.00 for my daily allowance. I packed my lunch so I would not go home anymore to eat. Barangay Salbang is a flood prone area. I rode my bicycle everyday even during rainy days instead of riding a tricycle," Hazel recalled.
They also went to the market early in the morning to sell vegetables to augment their funds and to catch up with late payment of school contributions.
"There were times when I even pitied myself because my classmates lived comfortable lives with complete families who were ready to support all their needs," Hazel admitted.
Though worried about entering college, she still pursued her education.
"God is so good: He sent Pantawid Pamilyang Pilipino Program and Expanded Students' Grants-in-Aid Program for Poverty Alleviation (ESGP-PA) to help me in my studies," she testified.
Hazel graduated With Distinction in High School at the Mariano Marcos State University (MMSU) Laboratory High School – Science Curriculum.
To her surprise, she passed the University of the Philippines College Admission Test but was financially incapable to study in UP Los Bańos, so she enrolled as an Agriculture Major in Animal Science at the MMSU – College of Agriculture, Food, and Sustainable Development (CAFSD) in Batac City, Ilocos Norte.
She also represented MMSU to the Asian Association of Agricultural Colleges and Universities Study Tour in Tokyo, Japan.
"With the struggles I faced, I stood stronger against the next battles. I am now a Licensed Professional Agriculturist! I was able to prove that poverty is not a hindrance to achieving one's dreams", Hazel said.
Opportunities, hard work and persistence
4Ps was launched in 2008 covering 300,000 households. The program scaled up to 4.3 million households to this day.
The ESGPPA, instituted by the CHED together with the DSWD, the Department of Labor and Employment (DOLE), and the different State Universities and Colleges (SUCs) hopes to produce graduates who can be part of the nation's workforce.
This end of school year, 34,000 college students are expected to graduate based on the available data of the CHED. Of the total number, 631 students will be finishing their degrees with honors.
"This is just the beginning. We hope that we these students finishing a college degree, they will be able to improve their lives. We hope to see more Hazel and Danny Rose in the future", concluded DSWD OIC Leyco.